Brotherhood of the Wolf
(2001)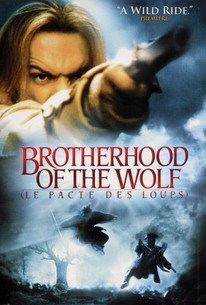 Brotherhood of the Wolf Photos
Movie Info
French legend has it that a creature known as the Beast of Gevaudan -- a huge, wolf-like monster -- was responsible for the violent deaths of over 100 persons in the mid-18th century, and this horror fantasy blends the lore of this fabled beast with a story of two men who set out to capture it. After a number of mutilated corpses begin appearing across the French countryside, naturalist Chevalier Gregoire de Fronsac (Samuel Le Bihan) is dispatched by the King to find and capture the animal responsible for the killings. Mani (Mark Dacascos), an Indian from Canada and an experienced hand in the wilds, is hired to assist de Fronsac in his work. Gregoire's assignment earns him the acquaintance of Marianne de Morangias (Emilie Dequenne), the lovely daughter of the idly wealthy Count de Morangias (Jean Yanne), but Gregoire receives a much chillier welcome from her brother Jean-Francois (Vincent Cassel), who, despite having lost an arm to a lion in Africa, is quite the huntsman himself. As Gregoire and Mani arrive in the village of Gevaudan, they're drawn to a local house of prostitution, where the animalistic allure and supernatural powers of Sylvia (Monica Bellucci) prove to have a profound effect on the naive Gregoire. Jim Henson's Creature Shop provided the special-effects expertise for the creation of the Beast of Gevaudan.
News & Interviews for Brotherhood of the Wolf
Critic Reviews for Brotherhood of the Wolf
Audience Reviews for Brotherhood of the Wolf
½
An adventurer and his Iroquois warrior companion investigate a series of brutal murders in rural revolutionary France said to be the work of a supernatural creature. The Brotherhood of the Wolf is a strange fish indeed. It is a genre spanning hybrid of period romance, supernatural horror, Holmesian mystery and martial arts mayhem. It's a strange brew indeed, but somehow it works. The basis of the story is similar to The Name Of The Rose in that a man of science investigates murder in Ye Olden Days to a backdrop of religious and political paranoia but it mixes in elements of The Hound Of The Baskervilles and Dangerous Liaisons with a Hammer Horror twist to create what is best described as a French Sleepy Hollow with Kung Fu. The eclectic cast all show their quality in their various fields, from straight to DVD stalwart Marc Dacascos' laconic, high kicking Indian to Vincent Cassell's embittered aristocrat through to the inevitably stunning Monica Bellucci's mysterious Italian courtesan. The CGI may be showing its age a little, but otherwise its visually very nice and the story, although a little lacking in focus, is so odd ball it never fails to maintain the interest. An unusual supernatural action film that transcends its patchwork of ideas to create something strangely unique.
½
[img]http://images.rottentomatoes.com/images/user/icons/icon14.gif[/img]
Directors Cat
Super Reviewer
Leave it to the French to deliver the wildest genre mix European cinema has seen in the last decade. This is martial arts action, fantasy, monster horror, historical piece and conspiracy thriller all at once. The little wonder is: the film works in each of these aspects and especially as a whole. When you expect the showdown the story takes a few more unexpected turns (maybe even one too many) and takes you through a slightly too long but none the less exciting and spectacular finish. Especially Dacascos' fights are top notch, but the rest of the cast is just as convincing. No wonder Cassel has been a regular in Hollywood ever since. A truly original and outstanding piece of French cinema that doesn't try to be great art but just damn fun and entertaining.
Brotherhood of the Wolf Quotes
There are no approved quotes yet for this movie.