The Brothers Grimm
(2005)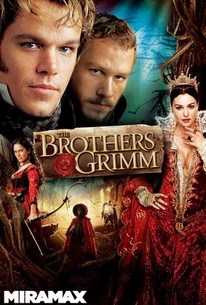 The Brothers Grimm Photos
Movie Info
Two men who have made a career out of spinning remarkable stories find themselves bringing them to life in this inventive fantasy inspired by the creators of some of the world's best-loved fairy tales. Will Grimm (Matt Damon) and his brother Jake Grimm (Heath Ledger) earn their living by traveling from village to village and vanquishing strange supernatural beasts that have been menacing the populace. Or at least that's what their clients think has been happening; as it happens, Will and Jake are confidence men who cleverly stage the ghostly attacks and then take payment for making the creatures they fabricated go away. One day, the brothers arrive in a town and offer to help its people drive away evil spirits, unaware that the community is bordered by a genuine enchanted forest, and that young girls in the village have been disappearing at a frightful rate. The Grimm Brothers must now learn how to deal with real magic, with the help of the lovely but fearless Angelika (Lena Headey). Directed by Terry Gilliam, The Brothers Grimm also stars Monica Bellucci, Peter Stormare, and Jonathan Pryce. ~ Mark Deming, Rovi
Critic Reviews for The Brothers Grimm
Audience Reviews for The Brothers Grimm
[img]http://images.rottentomatoes.com/images/user/icons/icon14.gif[/img] The Brothers Grimm is Terry Gilliam's first film that lacks a surealist personality and a interestingly mind boggling concept. Besides the marvelous visuals and the capable cast, this is a Terry Gilliam move that doesn't feel at all like a Terry Gilliam movie. It feels rather studio structured and is terrified to go to the places Gilliam is screaming for it to go to. He's one of the few artistic film makers working today who understands visuals and depth and if you give him his space he can make something very remarkable. If your going to make a fantasy film with a worthy director you have to allow it to go somewhere, this doesn't. But on a positive note I think the industrialisation of it forgot to enclose Gilliam's signature humour and brilliant changes of tone. There's some good humour in the film, I laughed a few times, I think it will please primarily the popcorn crowd. But if your someone like me, a huge Terry Gilliam fan who admires his ambitions for artsy cinema, this is best avoided.
Directors Cat
Super Reviewer
½
Terry Gilliam gives us this unique congregation of the well known Grimm fairy tales, built around a traveling pair of con artists bilking superstitious country folk who are put to the test when they stumble onto the real thing: an evil witch ( which is sorta like The Blair Witch Project come to think of it - w/o the video cameras). Matt Damon, Heath Ledger, and the always wonderful Peter Stomare head up the spooky proceedings with aplomb.
Kevin M. Williams
Super Reviewer
One of the few (if not the only) movie(s) I have walked out of in theaters. The film wants to go many places, but fails to go to any of them. Extremely boring, don't bother.
Eric Alvarez
Super Reviewer
The Brothers Grimm Quotes
| | |
| --- | --- |
| Jake Grimm: | It's this way Will! |
| Will Grimm: | No, no, it's not, it's not. It's that way! Grandmother Toad told me! |
| Jake Grimm: | What? |
| Will Grimm: | Trust the toad! |