Brothers' Nest
(2018)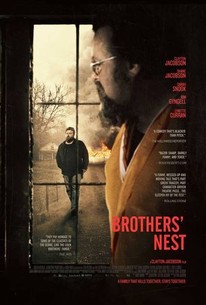 Movie Info
On a cold morning in the middle of country Victoria, two brothers arrive at the family home intent on murdering their stepfather Roger. Terry and Jeff's motive is simple--killing their step---dad will render their dying Mother's plan to change her will in his favor redundant. A staged "suicide" has been meticulously planned but there is one thing the boys didn't take into account, spending an entire day together. Old grudges, different worldviews and a general troubled history will pit these two brothers against each other. 'Brothers' Nest' is a tragic comedy about family, loyalty and murder--because after all "blood is thicker than water".
Critic Reviews for Brothers' Nest
Audience Reviews for Brothers' Nest
½
Thank God for Brothers' Nest, I was genuinely worried that 2018 didn't have anything great left to offer me. Australia has a pretty grim take when it comes to the "Dark Comedy" genre, and Brothers' Nest is absolutely no exception. But if you think of it as less of a comedy and more of a Crime Drama that you'll probably laugh in (and then maybe feel kinda bad), then you'll do well.
Brothers' Nest Quotes
There are no approved quotes yet for this movie.