Brown Sugar
(2002)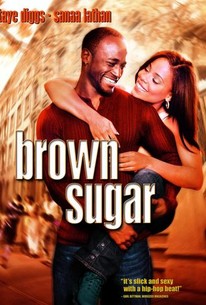 TOMATOMETER
AUDIENCE SCORE
Critic Consensus: Though predictable and possibly too sweet, Brown Sugar is charming, well-acted, and smarter than typical rom-com fare.
Movie Info
A woman wonders if it's just friendship or real love she feels when a close male friend announces he's tying the knot in this romantic comedy. Dre (Taye Diggs) and Sidney (Sanaa Lathan) became best friends when they were ten years old -- the same time that both first became aware of the first rumblings of the Hip Hop revolution in New York City. Today, Dre runs a successful record label, and Sidney is a respected music journalist; both have managed to turn their love for the music into careers, and both are still close friends. Close enough, in fact, that many of their pals wonder why they've never become boyfriend and girlfriend. While both have always denied their attraction to one another, Sidney begins to have second thoughts when Dre proposes to his girlfriend Reese (Nicole Ari Parker), a lawyer. Even though Sidney has a relationship of her own with professional basketball player Kelby (Boris Kodjoe), as Dre's wedding draws closer, Sidney begins to suspect that her longtime best friend is actually the love of her life. Brown Sugar features supporting performances form real life Hip Hop stars Mos Def and Queen Latifah; former basketball star Earvin "Magic" Johnson served as executive producer. ~ Mark Deming, Rovi
News & Interviews for Brown Sugar
Critic Reviews for Brown Sugar
Audience Reviews for Brown Sugar
½
Somehow I had never seen this movie before last night and I couldn't believed that I hadn't. It's a very good romantic comedy/drama that will remind you a little of When Harry Met Sally. There is even a scene where Taye Diggs character (Dre) spouts off on the different types of women and which ones are just to date and which ones are to marry, that scene echoes Billy Crystal's similar scene in Harry met Sally. Anyway this film main storyline has childhood friends Dre and Sidney (the gorgeous Sanaa Lathan) flirting around the issue of whether to just remain friends or become something closer. The point becomes moot when Dre ends up marrying hot to trot Reese (played by Nicole Ari Parker, who for once plays the bad girl instead of the usual saint). But Dre and Sidney still are such close friends that he spends more time with her than his own wife which leads to some friction. This being a romantic comedy, you know things will eventually turn out for the better, but getting there is what makes this movie works. A talented cast works wonders including Diggs and Lathan but also Queen Latifah as Sidney's cousin; Mos Def as a singer trying to break into the business, who is helped by Dre; and Parker. But the standout is Sanaa Lathan as Sidney. She manages to make her character seem very real, showing every emotion possible for happiness to sadness and all in between. When she is onscreen, the camera definitely loves her and so will audiences. Did I mention she was drop dead gorgeous. There are only a handful of women or men for that matter that can hold your attention with their acting ability and looks at the same time. I would put Ms Lathan up there with the legendary Elizabeth Taylor in her prime. So I highly recommend this movie, great for couples, great for romance lovers, great for film lovers in general. --------------------------------------------------------------------------------------- Dre: It's when you talk like that, that's what makes me think that you're jealous. Sidney 'Syd' Shaw: What? Dre: Yes. Jealous! Sidney 'Syd' Shaw: [throws a cookie on the table] No wonder you two are married, you're both crazy! Look here, contrary to what you and your wife may think, I don't spend my nights thinkin' about you, okay? Dre: Shh! Lower the voice. Sidney 'Syd' Shaw: I got a man who's fine, intelligent, successful, and gives it to me on a very, very regular basis and the s**t is the bomb! Dre: So! I don't care what - Sidney 'Syd' Shaw: Dre I need you to be happy for me. I need you to be there for me, just like you asked of me. So - so I can have tea and eat cucumber sandwiches with the crust cut off!
monty hawes
Super Reviewer
Brown Sugar Quotes
There are no approved quotes yet for this movie.