Brubaker
(1980)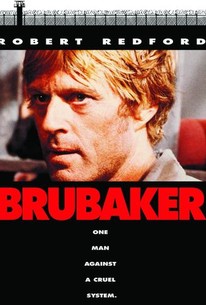 Movie Info
Fact-based drama starring Robert Redford as Henry Brubaker, the new inmate at a run-down Southern prison that's become notorious for corruption and violence. After he witnesses several instances of gross misconduct and defuses a tense confrontation with a crazed inmate (Morgan Freeman), Brubaker reveals to the guards and administrators that he's not a criminal at all, but the new warden, assigned by the governor to infiltrate the facility undercover. His identity confirmed, Brubaker takes office and sets about shaping up policies and procedures, despite resistance from, incredibly, even some of the more entitled convicts. With the help of the prison's chief trustee (Yaphet Kotto) and a compassionate ally (Jane Alexander), the warden effects some positive change, but powerful business interests line up against him when his ideas threaten their financial bottom line. A reform-minded, socially conscious, and politically liberal picture of the type usually associated with director Norman Jewison, this fact-based prison drama was the result of a troubled production that saw original director Bob Rafelson replaced with Cool Hand Luke (1967) and The Amityville Horror (1979) helmsman Stuart Rosenberg. Despite the backstage turmoil, Brubaker was an acclaimed release and an Oscar-nominated, career-finale triumph for co-screenwriter Arthur A. Ross, creator of Creature From the Black Lagoon (1954) and father of successful writer/director Gary Ross.
Critic Reviews for Brubaker
Audience Reviews for Brubaker
½
Brubaker is a prison drama - a little like Shawshank Redemption, but in this one, it is Brubaker that is fighting corruption in prison. It is almost too idealistic, but it is always cool when corruption is stifled.
Classic Robert Redford from the early 80's. A gripping movie from the director of "Cool Hand Luke".
Mister Caple
Super Reviewer
Based on the real life story of Tom Murton, this sure is a worthy tale to tell, however I found the whole film pretty boring and I have to say Robert Redford did absolutely nothing for me acting wise.
Lady D'arbanville
Super Reviewer