Bruno
(2009)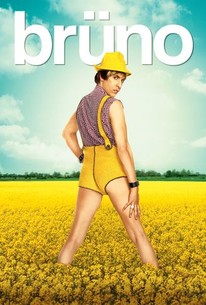 TOMATOMETER
AUDIENCE SCORE
Critic Consensus: Crude and offensive, but with ample cultural insights and gut-busting laughs, Bruno is another outlandish and entertaining mockumentary from Sacha Baron Cohen.
Movie Info
Borat trickster Sacha Baron Cohen returns to the big screen to offer yet another stinging dose of sociopolitical satire in this comedy that finds him assuming the persona of gay fashionmonger Bruno, the self-proclaimed "voice of Austrian youth TV." Originally conceived as part of Baron Cohen's cult television series Da Ali G Show, the character of Bruno offered a cleverly costumed Baron Cohen the opportunity to highlight the absurdities of the fashion industry by interviewing unsuspecting fashion icons and other haute couture hangers-on. ~ Jason Buchanan, Rovi
Audience Reviews for Bruno
Daniel J DeMersseman
Super Reviewer
½
The third and final film of Cohen's main trio of characters he created for the Ali G show on TV. After the disappointing movie of Ali G Cohen wisely opted to stick with the plot formula that he used for his second film Borat which was a success. Like Borat this film is again a series of cringe-inducing sketches/setups strung together by a flimsy plot which doesn't really matter, its all about the embarrassing sequences dotted throughout. The story follows Brüno as he travels to America to try and become the biggest gay star or celebrity ever in any way possible. There is only one other character along for the ride and that is his assistant 'Lutz' who was created for this film. So the plot has a familiar core in that once again Cohen's absurd character is travelling to the States to basically humiliate himself in any way he can...unknowingly on purpose. This film is exactly the same as Borat's film in structure and execution basically, both characters follow their TV roots as we see familiar setups in various locations. Brüno is mainly set in and around LA, I think, as we see him attempting to become the latest hot thing on the scene. As you would expect much of this consists of hugely embarrassing and awkward scenes where he tries to make his own chat show pilot and gets upset at the focus group reviewing it, interviewing and trying to seduce an American politician (Ron Paul) who angrily storms off after Brüno takes his pants down in front of him and a fantastically funny scene where Brüno visits a spiritualist and mimes performing oral sex on a dead gay ex-lover. But wait there's more, Cohen takes it even further this time as his character adopts a black baby and goes on an American TV show which just happens to be full of African Americans. He then exposes parents of child models by asking what they are willing to allow their kids to do for a gig, unbelievably these parents will seemingly allow their kids to do anything as long as they get the gig! Nazi uniforms anyone?. Of course this being the wild US Cohen can't resist the old deadly trio so easily found in America...homophobia, racism and American jingoism or extreme patriotism, and Cohen goes for the throat. Its so easy to offend someone in the US with homosexuality...especially when two half naked men are trapped together in bondage and roaming the streets. Then again going to Christian faith gay converters and trying to chat them up won't help you're case much either, neither will going on a hunt with a bunch of redneck hicks and sexually harassing them whilst flirting with one of them. The best bit has to be the cage fight match where Brüno and Lutz face off against each other but end up making out in front of an enraged southern redneck crowd! Makes you wonder how they got out of there alive. But wait, there's even more!! not only does Cohen upset the Yanks he also flies to Jerusalem to upset his own people! The sight of all these religious folks faces as Brüno swans around in his revealing camp attire is hilarious and the moment he is chased down the road by some Hasidic Jews (or very touchy religious Jewish folk at least) is mind boggling. How much of these sketches are real is difficult to tell in all honesty, whilst in the Middle East Cohen's character supposedly upsets a Mossad agent and a Palestinian terrorist leader (asking to be kidnapped!) which you'd think could be a very dangerous thing to do in reality. So it does beg the question was it real or setup? you kinda get the impression it wasn't quite as genuine as the US based stuff. As you all know the character of Brüno is homosexual (did you notice?) so the film heavily features a lot of homosexual jokes, visual gags and naturally the obligatory bits of nudity. Where as in some countries like the UK you could probably get away with much of this stuff as the general public would probably just laugh at it, in the US its very different and Cohen knows it. Manipulating Americans seems to be Cohen's forte and he does it so well. I think this film is probably the best out of the three personally, its much more riskier and certainly more in your face with all the homosexual references (full on cock n balls in your face actually). Many of the sequences are very funny, very offensive, very clever and very daring...we all know Cohen has balls of steel. As with all of Cohen's work its not gonna be everyone's cup of tea that's for sure, if you didn't enjoy Borat then this isn't gonna change your mind about Cohen. The film can come across as more homophobic than anything at times, so it depends on whether people can look past that. On the other hand if you liked Borat (and to a lesser extent Ali G) then this is you're lucky day as this is bigger bolder and badder than ever before.
Phil Hubbs
Super Reviewer
MisterYoda ?
Super Reviewer
Bruno Quotes
| | |
| --- | --- |
| Bruno: | Mein plan was to become the biggest gay movie star since Schwarzenegger. |
| | |
| --- | --- |
| Bruno: | I am going to be the biggest Austrian celebrity since Hitler. |
| | |
| --- | --- |
| Bruno: | I am going to be the biggest Austrian celebrity since Hitler. |
| | |
| --- | --- |
| Bruno: | Can I give you guys a word of advice? Lose the beards, because your King Osama looks like a kind of dirty wizard... or a homeless Santa. |