Bubble Boy
(2001)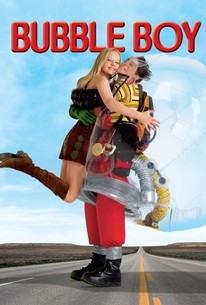 Movie Info
Jake Gyllenhaal, the young star of the critically well-received October Sky (1999), follows up that film with this offbeat comedy. Gyllenhaal stars as Jimmy Livingston, a teenager with an immune system deficiency who has spent his entire life living in a plastic bubble under the doting, overprotective care of his mother (Swoosie Kurtz). Jimmy is in love with his next-door neighbor Chloe (Marley Shelton), so when he learns that she has left for Niagara Falls in order to be married, he's devastated. He quickly assembles a portable "bubble suit" and sets out on a 2,755.8-mile odyssey in order to stop her and proclaim his affection. Along the way, Jimmy experiences a number of adventures, including encounters with freaks, bikers, rock stars, and a cult. Bubble Boy is a comic riff on the classic TV movie The Boy in the Plastic Bubble (1976), which starred a young John Travolta.
News & Interviews for Bubble Boy
Critic Reviews for Bubble Boy
Audience Reviews for Bubble Boy
½
A silly, not very funny, and forgetable film. Rotten.
Lucas Martins
Super Reviewer
½
Life is an adventure. Don't blow it. Cool good movie! This movie was as good as it was funny, perfect balance. It's kinda short but it's enough to be a blast. The story is very good and fun and you can't help but laugh at the different parts of Bubble Boy's journey. Great family film. On his way to save his love from marrying the wrong man, BB (Bubble Boy) encounters adventures very rare for a young man in a bubble whose system could not tolerate even one germ: . A bus load of cult members who boot him out of their bus when he accuses them of being a cult. . A motorcyclist ex boy friend of his mother (who is in hot pursuit) who gives him a ride. . Joins a band of freaks on a train who he saves from a vicious dwarf. . An East Indian ice cream vendor who gives him a ride until an unfortunate encounter with a cow. . Mud wrestles scantily clad beauties in order to win $ 500.00 to pay Pappy, an older person, to take him to Niagra Falls in his jalopy. BB gets a lift in an air plane (piloted by Pappy's brother, Pippy) and bails out over Niagra Falls, goes over the falls, and races to the church just in time to stop the marriage ceremony and marry his one true love after finding out his mother deceived him about his condition.
Jake Gyllenhaal as a comedic superstar. This is a really funny movie, but it's also got a really good message about living life and taking risks. While it's sort've a spoof of Boy in the Plastic Bubble, it's very much its own movie with a slightly similar concept. The nutjob characters are great, especially the freakshow carnies with mutant powers. The love story is really cute and somehow it never crosses into cheesefest territory. Actually the whole movie is always funny, but never takes anything too far which is really nice.
Conner Rainwater
Super Reviewer
Bubble Boy Quotes
There are no approved quotes yet for this movie.