Buck Rogers in the 25th Century
(1979)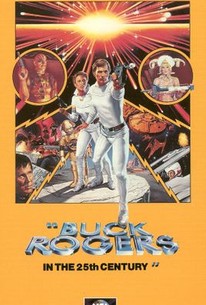 Movie Info
Gil Gerard plays Buck Rogers, an American astronaut who awakens after 500 years in space to find a Draconian princess scheming to take over planet Earth. Of course, he is mistaken for a spy and must not only save himself but the galaxy as well. This sci-fi feature was intended as a pilot for the television series.
Critic Reviews for Buck Rogers in the 25th Century
Audience Reviews for Buck Rogers in the 25th Century
½
A pretty good time travel story, but it can be a bit annoying in scenes. Overall, I liked it it's cute.
As camp as the future can get but the tv show held me spellbound for years. mThe movie was just as good.
Barry Lappin
Super Reviewer
I was wowed by the theatrical experience of "Buck Rogers in the 25th Century" - almost as powerful as Star Wars for us kids! Having those sexy chicks laying around on the Buck Rogers letters during the title sequence was as sleek and attractive as a James Bond intro - gosh I loved it. It had everything Star Wars had, even though Buck was a bit of a clown, and things were set around Earth instead of some other Galaxy, making it less interesting. I thought Twiki and Dr. Theo were the cutest little robots since R2-D2 and C-3P0. I loved the disco dance party on Princess Ardala's ship - too cool! The visit to the destroyed Chicago and mutant attack was neat stuff too. The end battle was cheapo compared to the Death Star battle; we were a bit let down by that. I was overjoyed when I heard they were going to be making a TV series out of it. It's all a bit boring these days, but I'll never forget my first wowed impressions.
Lafe Fredbjornson
Super Reviewer
Buck Rogers in the 25th Century Quotes
There are no approved quotes yet for this movie.