Budrus
(2010)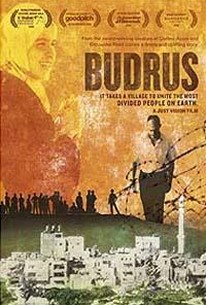 Movie Info
Ayed Morrar, an unlikely community organizer, unites Palestinians from all political factions and Israelis to save his village from destruction by Israel's Separation Barrier. Victory seems improbable until his 15-year-old daughter, Iltezam, launches a women's contingent that quickly moves to the front lines. Struggling side by side, father and daughter unleash an inspiring, yet little-known movement in the Occupied Palestinian Territories that is still gaining ground today. In an action-filled documentary chronicling this movement from its infancy, Budrus shines a light on people who choose nonviolence to confront a threat yet remain virtually unknown to the world. -- (C) Balcony Releasing
News & Interviews for Budrus
Critic Reviews for Budrus
Audience Reviews for Budrus
Ayed Morrar organizes a Gandhi-esque resistance to Israeli expansion into Palestine. This powerful documentary captures the strength of the Palestinian people and serves as a welcome response to those critics who argue that the Palestinians exclusively resist their colonization through violence. Morrar emerges as a simple, honest, and austere man, and though the film drags at times, the overall message rings resoundingly. Overall, it's good to see a positive story of resistance coming from this area of intractable differences.
Jim Hunter
Super Reviewer
"Budrus" is an illuminating documentary on many levels. To start, it is about everyday life and the complicated politics of the Occupied West Bank that we rarely get to see. Ayed Morrar lives with his family in the small village of Budrus that is in the path of the proposed security wall, meant to keep Israel safe from terrorists. With views from people in both Israel and the West Bank, nobody disputes the need for the wall, even though I could think of a few reasons off the top of my head. What is under dispute is the path of the wall as it cuts deeply into Palestine, including the cemetary in Budrus, and would call for the destruction of vast amounts of olive trees that the village relies on for their livelihood. As a result, Ayed arranges for peaceful protests that first only consist of men, with the women joining them later. The protests are not for the weak of heart as injuries are possible as the protestors have to face down not only construction equipment but soldiers deployed to defend them with rubber bullets and tear gas.(Actually, Ayed has spent time in jail and as a fugitive for being a activist.) The protests get much more attention from the press corps when they are joined by international activists. Then, Israeli activists join the cause which is the most important development of them all. Because now it is now longer just "us" versus "them," as the pronouns get dropped and the villagers become friends with people they could never have imagined befriending. At this point, I realize just about anything is possible.
Budrus Quotes
There are no approved quotes yet for this movie.