Buffalo Bill
(1944)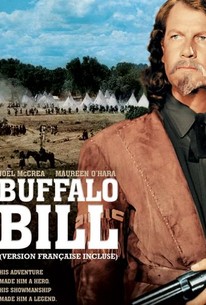 AUDIENCE SCORE
Critic Consensus: No consensus yet.
Movie Info
No slouch himself at rearranging the facts to make a good story, Colonel William F. "Buffalo Bill" Cody would probably have enjoyed this Technicolor version of his life and times. Well played by Joel McCrea, Cody is first seen as an army Indian scout, pursuing peaceful coexistence despite the animosity of Chief Yellow Hand (Anthony Quinn) and the obstruction of anti-Indian politicians. He also takes time out to court the lovely Louisa (Maureen O'Hara), the well-bred Eastern girl who will become his wife despite her initial (and quite justified) distaste for the West. Under the tutelage of impresario Ned Buntline (Thomas Mitchell), Cody follows up his military career with a more spectacular one as a larger-than-life super-showman, touring throughout the world with his spectacular Wild West show. In later years, Buffalo Bill director William Wellman would wince at the liberties taken with Cody's life -- especially the film's now notorious closing line, "God bless you, Buffalo Bill!" But Wellman allowed that, in terms of sheer entertainment, it was smarter to emulate Cody by perpetuating the legend rather than debunking the Buffalo Bill image with cold, hard facts. Or, as John Ford put it in The Man Who Shot Liberty Valance, "When the legend becomes fact, print the legend."
Audience Reviews for Buffalo Bill
½
Bill Cody(Joel McCrea), a scout, is minding his business before he comes to the rescue of Senator Frederici(Moroni Olsen) and his daughter Louisa(Maureen O'Hara) from a band of rogue Indians, drunk 'on the white man's whiskey,' which is all witnessed by New York Herald reporter Ned Buntline(Thomas Mitchell). That's not the only way Bill proves himself useful as he negotiates a peace between the white man's government and Chief Yellow Hand(Anthony Quinn), whose life Bill once saved and is now worried about the effect the coming railroad will have on his people. However, Bill needs help from Dawn Starlight(Linda Darnell), a schoolteacher, in responding to Louisa's invitation to dinner. While making great use of technicolor, "Buffalo Bill" is uneven at times with odd bursts of awkward comic relief. Overall, it pays repsect to the spirit, if not the person, of Buffalo Bill Cody. Along these same lines, the movie honors the people and traditions of the Indian tribes who acted in self-defense while raising questions about what truly constitutes civilized behavior, especially when it comes to the senseless slaughter of buffalo herds, sometimes more graphically depicted than I was expecting. Sadly, there are also signs that this movie is of the time period it was made, indicated by Linda Darnell being cast as an Indian woman.
Buffalo Bill Quotes
There are no approved quotes yet for this movie.