Buffalo Soldiers
(2001)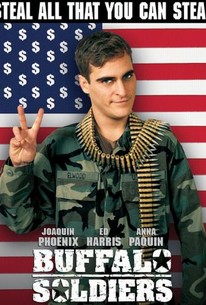 Movie Info
It's 1989. The Berlin Wall is about to fall; but outside of Stuttgart, West Germany, at the Theodore Roosevelt Army Base, Specialist Ray Elwood of the 317th Supply Battalion is about to find his own cold war turn white hot. Elwood's a loveable rogue, a conscript who's managed to turn his military servitude into a blossoming network of black market deals--more out of boredom than ambition. Officially, Elwood has a day job, as battalion secretary to the inept--but caring--Commander Wallace Berman. On the side, he does everything from selling stolen Mop'N'Glo, to cooking heroin for the base's ruthless head of Military Police, Sgt. Saad. When a new top sergeant arrives, with the avowed intention of cleaning up the base, Elwood thinks the new blood is nothing he can't handle. But that was before he factored in the $5 million in stolen arms that just landed in his lap, Berman's jealous wife, an insane Turkish drug dealer, and the resulting lust, betrayal and murder.
Critic Reviews for Buffalo Soldiers
Audience Reviews for Buffalo Soldiers
½
Maybe I'm the only one, but I found the satire in this film, while decent enough, to be a little outdated. This film was scheduled for released in 2001, but was delayed due the 9/11 attacks, before seeing release in 2003. Apparently, and this has carried all through to 2015, in some people's minds, saying anything negative about the military makes you an unpatriotic commie bastard. The military is above criticism and reproach. As if they were to be worshiped as gods instead of treated as, just exactly what they are, human beings who make mistakes. I can see that being the only reason this was delayed. And the funny thing is that the satire, while criticizing U.S foreign policy, isn't as particularly biting or edgy as the film believes itself to be. Dr. Strangelove, a film that is FIFTY-ONE years old, still comes across as more relevant and biting than this movie does. I don't know what it is, but it just doesn't work as well as it pretends it does. I still think the movie is good enough. It is well-written and the characters, while not particularly likable, are certainly interesting. Sometimes the most unlikable of characters make the most interesting. If you don't believe that then you clearly have never seen Arrested Development. I just found the entire film to be clumsily structured. I just think the story covers too many elements and characters that don't really come together in an overly cohesive fashion. It's not even that funny, in my honest opinion. The only thing I honestly enjoyed about the entire movie would be some of the character progression. Everything else left a lot to be desired. Maybe I was just in a crummy mood and I couldn't see the forest for the trees, so to speak. But I honestly didn't think this movie was that good. It tries and everything, but it just falls short of the mark. I would say that this is average at best and it's probably gonna be a bigger hit with others than it was with me, so there's that. Watch at your own risk I guess.
Jesse Ortega
Super Reviewer
A wheeler dealer based in a US army camp in Germany becomes locked in a battle of wills with his new sergeant, a Vietnam veteran determined to break him and his operation. Sgt. Bilko meets Tarantino in this blackly comic story of bored soldiers looking for ways to make a fast buck. Kind of like a cross between Jarhead and True Romance, there is the combination violence, drugs and humour that is common to post Tarantino comedy thrillers, but somehow it doesn't quite sit well with the setting of the US military. There is something a little unsettling about seeing soldiers with such a disregard for life and law (on "our side" anyway), and I found little humour in seeing them killed in various gruesome ways, accidentally or not. Otherwise, it's actually not a bad little film; Joaquin Phoenix amiably treads the line between immorality and charm, Ed Harris is as reliable as ever as the impotent base commander who is caught in the crossfire and Scott Glenn is a first rate Nazi war veteran. Not exactly a classic, but it has a quality that marks it above the average Tarantino copycat.
Quite simply this is a well written, well acted and exceptionally funny film. It follows the story of a soldier in the US army as the Cold War is coming to an end, and the black market exploits that thrive when there is nothing for the soldiers to do. It is also an interesting political take on the chain of command in the military, lampooning the superior officers as incompetent fools, despite having their hearts in the right place, the film manages to successfully create sympathy for Col. Berman (Ed Harris) in that despite his general inability to do the job, he is actually well liked. It becomes increasingly clear towards the end of the film that Elwood (Joaquin Phoenix) has a lot of affection for the man. All in all a highly successful film, and recommended for anyone who wants a well made, smartly written comedic drama.
Lorenzo von Matterhorn
Super Reviewer
Buffalo Soldiers Quotes
| | |
| --- | --- |
| Pvt. Ray Elwood: | There really is no peace. There's always war, somewhere, with someone. And there are no winners or losers, either. Just those who are still around to fight another day. |
| | |
| --- | --- |
| Col. Wallace Berman: | A thousand gallons of Mop and Glow? Do we really need that much? |