Buffalo Soldiers
(1997)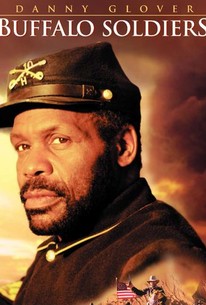 AUDIENCE SCORE
Critic Consensus: No consensus yet.
Movie Info
Frank Military and Susan Rhinehart scripted this western, a look back at the post-Civil War Black cavalry troops known as the Buffalo Soldiers, the fierce fighting unit previously covered in a PBS four-parter (1970) and an NBC pilot (1979). In the New Mexico Territory, ex-slave Sgt. Wyatt (Danny Glover) and the Buffalo soldiers arrest Captain Draper (Robert Knott) and other Texas Rangers, but politics mean the Rangers are quietly freed later. Back at Fort Craig, Wyatt reports to anti-black General Pike (Tom Bower) and Col. Grierson (Bob Gunton), a white responsible for assembling and supporting the black regiment. A search is underway for Indian chief Victorio (Harrison Lowe). Indian prophet Nana (Chesley Wilson) is tortured in an effort to get him to reveal Victorio's whereabouts. Determining that Victorio is at Rattlesnake Springs, the Buffalo Soldiers head in that direction for a confrontation. Filmed in the desert of Arizona's Cochise County, Buffalo Soldiers premiered December 7, 1997 on TNT.
Critic Reviews for Buffalo Soldiers
All Critics (1) | Fresh (1) | Rotten (0) | DVD (2)
...says nothing that is particularly new about the history of race relations, but it presents its message in an elevating way. Meanwhile, there's the adventure to consider.
Audience Reviews for Buffalo Soldiers
The film "Buffalo Soldiers is very good and is a fictional account of some of the historical campaigns in the Western territories involving black US Cavalry troops, who were often pitted against American-Indian factions during this tumultuous time in U.S. history. It originally aired on TNT but is now available on DVD, recommended for those interested in modern Westerns, also American history, especially for students & young people. Danny Glover was involved as a producer. Timothy Busfield, Glynn Turman, Carl Lumbly all have good roles here. Michael Warren, Mykelti Williamson, and Tom Bower round out the cast. This is a little talked about part of American history, but it should be more widely known. 3 stars 6-1-13
Bruce Bruce
Super Reviewer
Buffalo Soldiers Quotes
There are no approved quotes yet for this movie.