Bullet
(1996)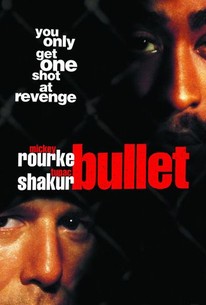 AUDIENCE SCORE
Critic Consensus: No consensus yet.
Movie Info
Seven years after his comedy Earth Girls Are Easy (1988), former music video director Julien Temple returned to feature films with the direct-to-video crime melodrama Bullet (1995), which featured a fine supporting cast. Mickey Rourke stars as Butch "Bullet" Stein, a Jewish junkie from the mean streets of Brooklyn who is paroled after eight years in prison. Butch rips off a runner for local drug dealer, Tank (Tupac Shakur), and is soon right back into his old habits of snorting coke and shooting up heroin with his best friend Lester (John Enos III). Enraged by Butch's affront and already determined to get revenge on him for a past wrong, Tank sets about getting even with his old enemy by hiring a hulking brute, Gates (Ray Mancini) to beat Butch. When the confrontation occurs, however, Gates breaks his hand on the battle-hardened Butch. Besides Lester, the only people in Butch's corner are his two brothers, the mentally-unhinged Vietnam War veteran Louis (Ted Levine) and aspiring artist Ruby (Adrien Brody), neither of whom can be counted on to help him in the inevitable showdown.
Critic Reviews for Bullet
Audience Reviews for Bullet
Terribly disappointing gangster film with Rourke and Shakur plus Brody, Levine and Donnie Wahlberg! great character actor cast...poor film. Not much to say really, the plot is nonsense and has Rourke as a Jewish con just outta the joint and living with his Jewish folks! in the mean time he deals drugs, does drugs and not much else really. Levine is his mental weapon obsessed brother who also lives at home and walks around in his Y-fronts all day, Brody is his other brother who is an artist and errr...they all somehow get by doing nothing, really I mean it, nothing during the whole film. Shakur is another gangster (yawn!) who lost his eye to Rourke whilst they were banged up together so he spends the whole film acting tough and trying to kill Rourke, boring, predictable and totally a waste of time, oh and Rourke co wrote it.
Phil Hubbs
Super Reviewer
as most people have never even heard of this movie, i think people would be greatly surprised by the superb cast including mickey rourke, adrien brody, and tupac shakur. the film has a tendancy to be a bit formulaic in spots, but entertaining and worthwhile non the less.
Bullet is one of those underrated films in my eyes. While it isn't perfect it has alot going for it. It realistically throws down on the mean streets of Brooklyn with ugly street gang violence and yet offers a sensitive portrait of a dysfunctional middle-class Jewish family. The vivid character study is built around an urban crime drama that pits Jews against blacks over drug turf. It's based on writer Bruce Rubenstein's own street experiences and he cowrites it with Mickey Rourke. Former music video director Julien Temple ("Earth Girls Are Easy"/"The Great Rock 'n' Roll Swindle"/"Mick Jagger: Running Out of Luck") at times loses his focus on what it's about but he helms it with surprising sensitivity (especially the family scenes between the disappointed hardworking successful dad and the loving homebody mother) and keeps the narrative down a dark path that gives it a ferocity that most Hollywood punk gangster films wouldn't touch with a ten foot pole. It was released as a direct-to-video because it fails the litmus test for both arthouse and mainstream theater released films, as in all probability the studio didn't know how to market such a graphically violent film even though one of its stars, the late rapper Tupac Shakur, had a wide audience among certain youths. One of the film's biggest problems is a miscast Tupac a great actor and rapper who is still missed today plays the most undeveloped character in the film. His character never gets past the cartoonish stereotyped stage, as we never understand what he's all about under all the bling, macho bluster and antsy homeboy posturing. After spending eight years in jail for a crime he didn't commit, the hardened "Bullet" Stein (Mickey Rourke) is released from prison on parole. He's picked up outside the prison by his vain womanizing best friend, the Jewish gangster Lester (John Enos III) and his aspiring artist brother Ruby (Adrien Brody). The boys get high on heroin while driving into the city and stop off at a project, where Bullet robs two square white boys looking to cop drugs and throws their clothes off the roof and when leaving the projects puts a knife into an Hispanic drug dealer's eye (Manny Perez) who called the Jewish gangster out for scaring away his customers and lunged at him with a knife. The thirty-five-year-old self-destructive Bullet is a house burglar (willing to rob neighbors) and a depressed junkie with Star of David tattoos over his body and lives in his parents' (Suzanne Shepherd & Jerry Grayson) comfortable private house in Brooklyn with his loony brother Louis (Ted Levine), an ex-marine who served in Vietnam and came home with severe psychological problems that can't be treated, and also lives with his more vulnerable fun loving graffiti mural wall painting younger brother Ruby (Adian Brody), whom Bullet is very protective of and tries to reason with him to make something of his talent in art rather than selling it cheaply to make signs for an outfit that runs Playland at Coney Island. Bullet, the Irish thug Paddy (Matthew Powers) and the black drug dealer Tank (Tupac Shakur) grew up together as friends but now Tank and Bullet are bitter rivals, with Paddy caught in the middle but owing Bullet big time for taking the prison rap for him as the getaway driver in the robbery that sent him away to do hard time. The main rivals each has a death urge and a hatred blazing inside their system that compels them to go to war with each other (unfortunately we are left guessing why they hate each other, as the story never lucidly tells why). The end result, as expected, is bloody and tragic. The film scores big not only in its gritty street scenes, but at odd moments when the troubled characters take time off their self-absorbed trip to talk to each other. Mama Stein tries her best to deal with an unhinged Louis who childishly demands she buy him an expensive stun gun, Papa Stein tells his wife in anguish that he can't understand why all three of his sons are misfits even though he was always a good provider and tried to be a good father, and there's the troubling conversation at the batting cage in Coney Island between an unaware Lester and a too aware Bullet who realizes after his failure to perform sexually with a hot Spanish chick that it's all over for him (he's dead inside) and that he would rather die than go on living as a loser. To sum up here this is a flawed but good gangster film with what I feel is a very poignant conclusion.
David Ladd
Super Reviewer
Bullet Quotes
There are no approved quotes yet for this movie.