Bullet
(2014)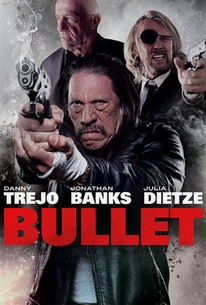 Movie Info
A tough talking, hard hitting cop rescues the governor's daughter when she's kidnapped by a drug kingpin, turning the streets of L.A. into a bullet-ridden bloodbath. ~ Cammila Collar, Rovi
Critic Reviews for Bullet
Audience Reviews for Bullet
An action thriller starring Danny Trejo as the title character and Jonathan Banks as the villain (best known for Beverly Hills Cop and Breaking Bad) could go both ways... good and bad! But, when we have a director with a name Nick Lyon, who was a co-writer with Matthew Joynes, Ron Peer and Byron Lester, it would be almost impossible that this film goes to good category! Why? Where to start? [img]http://upload.wikimedia.org/wikipedia/en/thumb/6/68/BULLET_film_poster_2013.jpg/220px-BULLET_film_poster_2013.jpg[/img] The story follows an undercover police officer-turned-vigilante (Trejo) tracking down the crooks who kidnapped his grandson. He is supposed to be some kind of hardened detective battling to bring down a gang, but in most scenes he looked like an escapee from a retirement village having problems with bad knees. This character is involved in almost impossible events added in sequences of clichés we all have seen before many, many times. Nothing in this movie can be called quality - everything is disposable on a first sign! Acting was terrible, except the villains! They were great. Scenography, photography, camera work ... could all be faulted! Don't even bother with this.
Bullet is a mediocre action film that stars Danny Trejo. This is the type of film that relies on clichés to create an interesting story. The only thing is, is that it just ends up being a dull affair, one that boasts wooden performances, bland dialogue, and poorly executed action scenes. This film if it would have been rewritten might have been good fun, but the end result just suffers from a poor plot that ends up falling flat. This is the type of film that we've seen many times before, and done much better as well. I usually enjoy Danny Trejo, and he's made some good flicks, but with this one, he just doesn't deliver anything remarkable. This is a boring performance from him, and the film has a cast that is very underwhelming. Don't expect anything great here; expect a disappointing effort because Bullet just doesn't deliver anything memorable. The film, just plays out like a paint by numbers action film, and by the time the credits roll, you realize how unimpressive this movie is. This is not worth seeing, unless you're a B-movie action fan, and even then, you'll want more substance to the film. At least Breaking Bad's Jonathan Banks is great as the villain, and he almost makes you forget the formulaic storyline. If there would have been more effort into making this a standout action film, I think Bullet would have been a standout action B movie film. However, it seems that director Nick Lyon is afraid to try and make something truly original and instead opts for the clichéd story which just makes the film boring and forgettable in the long run.
Bullet Quotes
There are no approved quotes yet for this movie.