A Bullet for the General (El chuncho, quien sabe?)
(1966)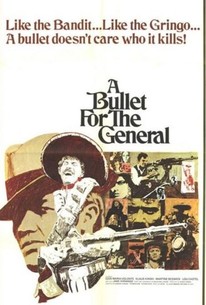 AUDIENCE SCORE
Critic Consensus: No consensus yet.
A Bullet for the General (El chuncho, quien sabe?) Photos
Movie Info
An American is hired to assassinate a leader in the Mexican Revolution.
Critic Reviews for A Bullet for the General (El chuncho, quien sabe?)
All Critics (3) | Top Critics (1) | Fresh (3) | Rotten (0) | DVD (3)
The best reason to see the movie is for Kinski, who delivers the film's most arresting performance.
Damiano Damiani directs it like a twenties gangster picture in the sun-baked desert and white-dust hills of the cutthroat west, where life is cheap, loyalty is rare, and rival gangs constantly battle for guns and contraband.
Audience Reviews for A Bullet for the General (El chuncho, quien sabe?)
½
As far as Zapata westerns goes this one has a strong reputation, and i can see why. It has good action sequences, a great cast and solid direction. Story wise it's an ambitious but problematic affair, the political commentary of the movie feels flat because of it's either naive or short-sighted nature. El chuncho is the cliche of the mexican bandit with the "heart of gold", tempted by the cold and greedy "gringo" who just wants to make a quick cash without caring for human life at all. The entire arc of this fable lacks smooth transitions, which ends giving us a Chuncho who switches gears too often and too abrupt depending of where the script is going, not so much of where the characters are going. There is never any particular motivation for him to trust gringo so much, so their relation is never as strong as the movie tries to portray it. The themes of friendship, loyalty and political beliefs are just not well devoleped, and considering films like compañeros and duck you sucker just did it better "el chuncho" really doesn't come out as highly as it's reputation would suggest.
Tsubaki Sanjuro
Super Reviewer
½
A really fun and interesting Mexican Revolution story blended with the spaghetti western style. Gian Maria Volonte is always such an interesting character, no matter the role. He works really well as a crazy gun collecting Mexican Bandito with no shame. Klaus Kinski's also pretty memorable as a gung-ho priest who throws grenades whilst churning out bible quotes. I think it's very well made and intelligent, I'm a big fan of Westerns that try new things.
Conner Rainwater
Super Reviewer
"A Bullet for the General" is set during the Mexican Revolution in the 1910's at a time of great bloodshed. Part of that occurs on a section of track as a rebel group led by Chucho(Gian Maria Volonte) have tied an army captain to a cross on the tracks in order to stop a train, kill soldiers and steal rifles, but not harm any of the passengers. When that does not exactly go as planned, Tate(Lou Castel), a wealthy American, intercedes on their behalf by killing the engineer and stopping the train himself. While pretending to be an escaped prisoner, he is allowed to join Chucho's gang, who while stealing a good amount of rifles for resale, are still disappointed that they did not find a machine gun. "A Bullet for the General" is an entertaining if overlong movie that suffers from miscast international actors not only playing it broadly, but are also dubbed. While the movie basically favors the rebel side, it also does not shy away from showing both sides committing unnecessary acts of violence, as both are fond of executing prisoners. While not excusing them, at least Chucho's gang uses violence in the cause of giving the people a chance for a better life by stealing the rifles from the government to be sold to the rebels, while making a modest living. And in the set piece on the tracks which is the highlight of the film, Chucho is sadistic by what he does to the captain while not expecting the army to call his bluff. Regardless, the soldiers may not have had any choice since they might have been dead anyway, as they are being picked off one by one.
A Bullet for the General (El chuncho, quien sabe?) Quotes
There are no approved quotes yet for this movie.