Bullet Head
(2017)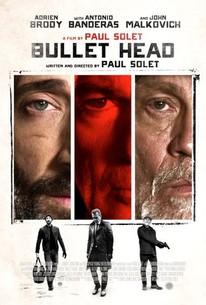 Movie Info
Oscar (R) winner Adrien Brody, John Malkovich, and Antonio Banderas deliver the action in this riveting crime story filled with pulse-pounding twists and turns. After a heist gone tragically wrong, three career criminals find themselves trapped in a warehouse with the law closing in. But, inside the warehouse, a more dangerous threat awaits-as the fugitives are plunged into a furious battle for their lives.
News & Interviews for Bullet Head
Critic Reviews for Bullet Head
Audience Reviews for Bullet Head
½
Bullet Head is an intense and frightening indie drama. After pulling a heist three criminals hideout in an abandoned warehouse but soon discover that it's an underground dog fighting ring, and that one of the dogs has snapped, having killed its owner, and is on the hunt. Featuring Adrien Brody, John Malkovich, and Antonio Banderas, the cast is pretty impressive. And, the writing does good job at developing the characters. The dialog in particular is especially strong. Still, the plot is rather thin and could be beefed up a little, and the directing could be better. Yet despite its problems, Bullet Head is a suspenseful crime thriller.
Dann Michalski
Super Reviewer
I may have mentioned this in a prior review, for what movie I don't even remember, but the first 'What I wanna be when I grow up' career choice was to be a veterinarian. If you were to ask what I wanted to be when I was 10, that would have been my first choice. And, for the longest time, that is what I wanted to do. It, sadly, didn't pan out. I don't think I'd have the stomach to put animals, that families love, down even if it's what's best for the animal, to be put to sleep to end their pain. I love animals and always have, ever since I could remember. It's probably due to the fact that, out of the years that I've been alive (THIRTY of them, ladies and gents), I've had pets for 28 of those. I've had three dogs, two rabbits, an indoor cat and a bunch of other outdoor cats that live in the garage. The last two are the current that I'm 'dealing' with, if you could call it that. One of my dreams, though, has always been to have a farm where I can have far more animals than this for them to roam freely. All kinds of different animals too, not just cats and dogs. I had to put the last dog I had to sleep. He was in my life for FIFTEEN years, starting from when I was 10 until I hit 25. It was one of the most difficult things I've had to do in my entire life. I know people will be like 'it's just a dog' and those people are dumbfucks who have no idea the bond that you form with a dog. As cliche as it sounds, I do feel like he was my best friend and losing him was a massive blow that I'm still not over. The reason I bring this up is because, quite frankly, this was a surprising little movie. In that it uses its crime thriller set-up to explore the relationships between these characters and their dogs. Yes, really. I mean, obviously, the film is much more than that, since you get to explore the characters a bit and why they are in the situation they are at the start of the film. But the film is more concerned about the relationship between man's best friend and, well, man. The movie starts simply enough, after a heist these three fugitives find refuge in, what they think is, an abandoned factory. But, oh no, it is not just any abandoned factory. This factory was used to conduct illegal dog-fighting and one of the dogs that was meant to be...put down, executed more like it, after losing his last fight has escaped and is now roaming free. He also killed his handler, which I can't say I was sorry to see happen, even if it is a fictional setting. So the film, sort of plays like Cujo, but it really doesn't. Because the scenes where the dog is chasing after Walker, Stacy and Gage (who's always referred to as the kid by the other two) only comprise like, maybe, less than 50% of the movie. I will say that, perhaps, one of the flaws of the movie is that there's too much standing around and having the characters tell their stories of their past misdeeds or, in the case of Gage, the dog that he took care of as a little kid, keeping it a secret from his father. And I get those complaints, but I found these little sections of the film to still be enjoyable enough. As short as the movie is, I think it helps flesh out the characters a little bit. Not that I'm gonna say that the characters themselves are anything more than one-dimensional. Stacy wants to leave this life behind to join the love of his life, but he doesn't feel like he can put the past behind him. Walker's too old for this shit. And the kid, well, he's just using to feed his drug addictions, I think. So I think the guys telling stories of their past helps, if even just a little bit, give you more of an insight into who they are as people. And, really, the cast is likable and solid enough at what they do that they end up making it work regardless. Naturally, you also explore the dog's past, with some scenes taking place from his viewpoint, and you see how this asshole (Antonion Banderas) took him off the street when he was a puppy and turned him into a killing machine. Like I said, the cast is more than solid. Adrien Brody has literally done nothing of importance (other than King Kong) since winning that Academy Award. But I also appreciate the fact that, after winning his Oscar, he could have pretty much commanded any role he wanted since he would have been in demand. But he's mostly stuck to smaller, independent films. I don't know if it was by his own choice or he fucked someone he shouldn't have and got blacklisted. John Malkovich did mumble a lot here, but I like him, so he was enjoyable even if he was shooting at 60% capacity. Rory Culkin is a good actor and, while he's not in the movie for long, he still does a good job. Antonio Banderas while, again, as one-dimensional as our leads, makes for a good enough villain. The film isn't really afraid to get into the deep and dark underbelly of dog-fighting and that leads to some scenes that might be a little disturbing to people. You don't actually see dogs fighting, just the sounds and tufts of hair flying in the air, blood spurting out, etc, but I think it does get the job done at portraying how fucked up this world is. I find the idea of animals fighting to their death for the entertainment of human beings to be absolutely deplorable. And I live in a country where cock-fighting is still legal. I abhor cock-fighting, I abhor bullfights, I abhor dog-fighting and everyone that engages in these or any similar activities should be removed from society. I don't mean killed, just sent away to some facility where they can correct this unacceptable behavior. Moving on, however. Perhaps, objectively speaking, I should consider this movie average. But, subjectively, I enjoyed my time with this movie. Maybe it's just that stories like this always get to me, but I can't say that I ever disliked a single solitary second of watching this movie. I enjoyed the characters, I enjoyed the exploration of the relationships between dogs and their owners and I thought mixing it up with the crime thriller genre made for a surprisingly interesting combination that yields some unexpected results. I can't say that I would recommend this movie, since I don't think I was that objective. But, again, I did enjoy my time with this movie. I was expecting a generic crime thriller and, while it did have hints of that, I felt that it did enough that was its own for it to avoid being just another crime thriller in a sea of millions, at least how I view it.
Jesse Ortega
Super Reviewer
½
There are worse ways to spend your time than watching Oscar level actors figuring out how to best spend their time. But there are far superior crime-caper-gone-wrong movies you can spend your own on.
Bullet Head Quotes
There are no approved quotes yet for this movie.