Bullet to the Head
(2013)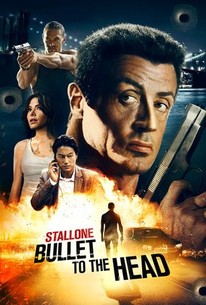 TOMATOMETER
AUDIENCE SCORE
Critic Consensus: Bullet to the Head's unapologetically trashy thrills evoke memories of its star and director's proud cinematic pasts -- but sadly, those memories are just about all it has to offer.
Bullet to the Head Photos
Movie Info
Based on a graphic novel, Bullet to the Head tells the story of a New Orleans hitman (Stallone) and a DC cop (Kang) who form an alliance to bring down the killers of their respective partners. -- (C) Warner Bros
News & Interviews for Bullet to the Head
Critic Reviews for Bullet to the Head
Audience Reviews for Bullet to the Head
Derivative, formulaic and clichéd action film, Bullet to the Head is a bland movie that fails to grab your attention due to a lack of originality, good performances and well executed action scenes. This is a bad film, one that is not worth your time and it's a pointless affair that just doesn't offer anything of note. Walter Hill direction is incoherent, and it's a shame because he has made some great films throughout his career, but this is among his worst yet. If you're expecting something great here, you'll be greatly disappointed as the film is pretty stupid in the way it tackles its action scenes. The film, like I said, just doesn't deliver and recycles old ideas from previous action films to create something "new". The film is boring, uninteresting fails to grab your attention. This is a pointless waste of time, a film that is so sloppily written and thought out that it's not worth your time. Sylvester Stallone has made far better films than this, and here he delivers a painfully dull performance that simply doesn't do anything to keep you interested. Bullet to the Head is a wasted opportunity to make something quite interesting and worth your time, but instead it just takes bits and pieces to create something that in the end is not worth watching because the film lacks a good story, effective action and more importantly good performances and interesting characters. This is a forgettable affair that ranks among Sly's worst movies, and it's a film that not worth your time. Walter Hill has made better films, and Bullet to the Head is easily a forgettable film in his long and distinguished filmography.
½
3 3/4's---I rather surprisingly enjoyed this, especailly since I expected to hate it. I found the dialogue witty, and the action scenes really decent. The highlight of the movie was with Jason Momoa (who is climbing my list of favorite actors), and Sly having a pretty cool fight with axes. I think maybe I just have a soft spot for Sly movies, as of late. He sure LOOKS great for an old guy....
Cynthia S.
Super Reviewer
½
Walter Hill's Bullet to the Head misses its mark.
The 90 minute story is dull, unexciting, and full of predictable plot details. Yes, there is definite room for improvement when it comes to the writing, but it could also have been a lot worse.
The violence is where this picture excels. The shootings are bloody and what better way to live up to its title by delivering a lot of head shots, backed by some decent cinematography.
While muffled and blunt at times, Sylvester Stallone's persona is fit for his hitman character. Sung Kang is a disappointment due to his dialogue and line delivery. It's hard to argue with the beauty of Sarah Shahi, so its best to leave it at that. Jason Momoa proves to be a solid adversary for Stallone and the cell phone product placement is big enough to almost warrant a character name for it.
Bullet to the Head puts some bullets in the head, but it doesn't do much more than that. Watchable once and that's it.
Bullet to the Head Quotes
| | |
| --- | --- |
| Jimmy Bobo: | I know. I've heard the speech. You should have taken him in. |
| | |
| --- | --- |
| Jimmy Bobo: | You're starting to sound like a broken record. |
| Taylor Kwon: | They don't even make records anymore. |
| Jimmy Bobo: | Right. |
| | |
| --- | --- |
| Taylor Kwon: | You don't just kill a guy like that! |
| Jimmy Bobo: | I just did! |
| | |
| --- | --- |
| James Bonomo: | Bang. Down. Owned. |