Bullets Over Broadway
(1994)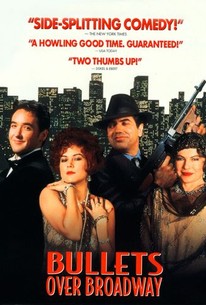 TOMATOMETER
AUDIENCE SCORE
Critic Consensus: A gleefully entertaining backstage comedy, Bullets Over Broadway features some of Woody Allen's sharpest, most inspired late-period writing and direction.
Bullets Over Broadway Photos
Movie Info
Bullets Over Broadway is a Woody Allen romp that, as the title suggests, combines gangsters with show business at the height of the Roaring Twenties. David Shayne (John Cusack) is a straight-arrow playwright who plans to stand firm against compromising his work, but quickly abandons that stance when his producer (Jack Warden) finds a backer to mount his show on Broadway. There's just one catch, however: the backer is a mobster (Joe Viterelli) who sees Shayne's play as a vehicle for his dizzy, talent-free girlfriend, Olive (Jennifer Tilly). Shayne also has to deal with the demands of veteran theatre diva Helen Sinclair (Dianne Wiest) and is shocked to discover that Olive's hitman bodyguard, Cheech (Chazz Palminteri), is probably a better playwright than he is, as he secretly revises Shayne's work when he sits in on rehearsals. ~ Don Kaye, Rovi
News & Interviews for Bullets Over Broadway
Critic Reviews for Bullets Over Broadway
Audience Reviews for Bullets Over Broadway
One of the top 5 of Allen's extensive repertoire, a gem that's sparkle leaves one feeling smarter and more erudite, rides the old show within a show conceit. And while loaded with excellent performances, Cusack, as Allen's surrogate, really shines simply for not aping Allen's shade as so many have done. Repeat viewings are definitely in order.
Kevin M. Williams
Super Reviewer
"Let's say there was a burning building and you could rush in and you could save only one thing: either the last known copy of Shakespeare's plays or some anonymous human being. What would you do?" In 1920s New York, a struggling playwright is forced to cast a mobster's talentless girlfriend in his latest drama in order to get it produced.
REVIEW
Allen's "Bullets Over Broadway" deals with a struggling stage writer (John Cusack) who is so desperate to get one of his plays on Broadway in the 1920s that he reluctantly enlists the help of the local mafia crime lord to fund the play. Of course there is a large stipulation. The crime lord's girl must be in the play (hilariously played by Jennifer Tilly in an Oscar-nominated role). Needless to say she's terrible and Cusack struggles with her in the play. However, he has booked A-list actress Dianne Wiest (in her second Oscar-winning role) who is an alcoholic who has seen better days in her career. Tilly's bodyguard (Chazz Palminteri, also in an Oscar-nominated role) sees the play rehearsed firsthand and gives Cusack some directions on the project that Cusack cannot refuse. Palminteri is street smart and knows how people really talk, while Cusack is so educated that his words make no sense to the normal audience. This film is what "The Godfather" would have been like if Allen had directed it. The screenplay is outstanding and Allen's direction has rarely been better. Cusack is fun and hilarious, but it is the supporting cast that makes the movie work. Other than the aforementioned Oscar-nominated actors, there are great turns by several others. Mary-Louise Parker, Tracy Ullman, Jim Broadbent, Jack Warden, Rob Reiner, Harvey Feinstein, and Joe Viterelli are all superb in well-calculated supporting roles.
Lorenzo von Matterhorn
Super Reviewer
Woody's first indie venture outside of studio affiliations just so happens to be his best film of the 90s.
Jonathan Hutchings
Super Reviewer
Bullets Over Broadway Quotes
| | |
| --- | --- |
| Ellen: | I could love a man if he's not a real artist. But I couldn't love an artist if he's not a real man. |
| | |
| --- | --- |
| David Shayne: | I'll have a double anything. |
| | |
| --- | --- |
| Sheldon Flender: | Guilt is petit-bourgeois crap. An artist creates his own moral universe. |
| | |
| --- | --- |
| Helen Sinclair: | No, no, don't speak. Don't speak. Please don't speak. Please don't speak. No. No. No. Go. Go, gentle Scorpio, go. Your Pisces wishes you every happy return. |
| David Shayne: | Just one... |
| Helen Sinclair: | Don't speak. |