Bullitt
(1968)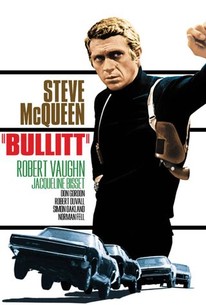 TOMATOMETER
AUDIENCE SCORE
Critic Consensus: Steve McQueen is cool as ice in this thrilling police procedural that also happens to contain arguably the greatest movie car chase ever.
Movie Info
Robert L. Pike's crime novel Mute Witness makes the transition to the big screen in this film from director Peter Yates. In one of his most famous roles, Steve McQueen stars as tough-guy police detective Frank Bullitt. The story begins with Bullitt assigned to a seemingly routine detail, protecting mafia informant Johnny Ross (Pat Renella), who is scheduled to testify against his Mob cronies before a Senate subcommittee in San Francisco. But when a pair of hitmen ambush their secret location, fatally wounding Ross, things don't add up for Bullitt, so he decides to investigate the case on his own. Unfortunately for him, ambitious senator Walter Chalmers (Robert Vaughn), the head of the aforementioned subcommittee, wants to shut his investigation down, hindering Bullitt's plan to not only bring the killers to justice but discover who leaked the location of the hideout. ~ Matthew Tobey, Rovi
News & Interviews for Bullitt
Critic Reviews for Bullitt
Audience Reviews for Bullitt
½
The word "classic" is thrown around a lot and many people use it as a term that just means "something old." To me, classic means something that has gone down in the past and will be remembered in some form or another. Bullitt is definitely a classic film in my eyes, not just because it's an old film, but due to the fact that it has an incredibly engaging array of characters and the action sequences are some of the best ever put to film. Quite often you will hear film buffs exclaiming the best films of all time to be that of Back to the Future, Jurassic Park, Citizen Kane, The Godfather, or anything else that is valid in pop culture, but some of the other films that should truly be remembered as classics only have a small fan base that remembers it or even discovers it. Bullitt is one of the overlooked classics that needs the spotlight treatment once again. Here is why this film still holds up today. Although there are quite a few scenes dealing with investigations and paperwork, making the overall film feel more like a procedural television show than anything, Bullitt always manages to keep you engaged with likeable characters and a great screenplay, for what it's worth. Hired to protect a witness to a crime, police officer Frannk Bullitt makes it his mission to hunt down the murderer after the failure of his initial job in keeping the man safe. When this film gets moving, it doesn't let up and that just goes to show how entertaining films will always be entertaining, no matter how much time passes since their theatrical release. Film fans and critics across the world have been talking about the long climactic chase sequence to be one of the best in the history of cinema, and don't let that hype ruin this portion of the film, because there is a reason it's talked so highly about. Bullitt single-handedly has one of the best car chases ever, bar none. It honestly has to be seen to be believed. That being said, that chase isn't the only impressive thing this film has to offer. From gun fights to chases on foot under planes on an airport runway, everything about this film would've been done with CGI these days, but I don't believe there was a single special effect present anywhere in this film. Practicality was second nature to director Peter Yates and actor Steve McQueen, and it shows in spades when you watch the final product. Yes, the dialogue and action-packed moments are truly what make this film as incredible as it is, and as much as I will defend that this film has great pacing, there are undeniably too many scenes with two characters conversing. This makes the overall film feel the whole two hours that it is. This is the only drawback that I faced when watching this film, but that's easily forgivable, because it was clear that they were going for the procedural feel in order to blow audiences away once they reached the big moments in the film. for that reason, I have no problem giving some of the pacing a pass. This is a great film from start to finish. In the end, Bullitt offers much more than just a procedural story with great action, because the deep character study into the mind of Frank Bullitt is really what puts this film over the edge in terms of quality entertainment. This is a film that I can easily recommend to adults of any age and it still welcomes the young film lovers of today who want to discover the best films from the past. This is one of the all-time classics in my personal opinion. It does have a few small issues, but the sheer impressiveness of the overall film makes me want to revisit it over and over again. Bullitt is fantastic entertainment.
If you were a kid in the 80s, you can rest assured your dad or grandad was parked in front of the tv on a sunday afternoon. Because if it wasn't football or baseball season, then right after wrestling, the local channel would air either one of the many classic John Wayne movies or "Bullitt", starring Steve McQueen. It has that kind of reputation. But, and 'sssh, don't tell anybody' this has a lot more going for it than the average brain-dead Jason Statham movie. Granted, there isn't a whole lot to McQueen's character, but the movie that surrounds him is enthralling and clever. McQueen plays "Frank Bullitt", a San Francisco police lieutenant who is put in charge of protecting a mob informant. It's a job he doesn't particularly want, and he especially doesn't like the smell of the way things are set up. His suspicions are confirmed when the witness and the cop on duty are both shot up in the hide out location. Who did the shooting and how did they know where to find him? Bullitt has only 48 hours to solve the crime before Chalmers pins everything on him and makes him the fall guy. Steve McQueen personally hand-picked director Peter Yates after seeing another film Yates had done which featured an intense car chase. With Bullitt, the car chase is the centerpiece of the film. Set in the streets of San Francisco, it takes us through harrowing twists and turns and flying up and down hills. It's tense, fast and gritty. As intense as that car chase is, the rest of the film keeps up the pace, but the twists and turns come from following the plot. Bullitt isn't a complicated guy, but he knows that what he does and sees is disturbing to the average civilian.
Devon Bott
Super Reviewer
½
Steve McQueen is as attention-demanding and sauve as any James Bond, and Bullitt is a perfect showcase for the actor. With the famous car chase thats shows off the equally arresting camera work, the film has enough style and bravado to almost make up for the generic crime story.
Sam Barnett
Super Reviewer
Bullitt Quotes
There are no approved quotes yet for this movie.