Bulworth
(1998)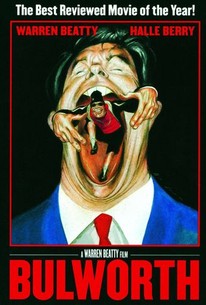 TOMATOMETER
AUDIENCE SCORE
Critic Consensus: Star and director Beatty's ambitious take on race and politics in 20th-century America isn't perfect, but manages to provide more than its share of thought-provoking laughs.
Movie Info
Warren Beatty directed, co-produced (with Pieter Jan Brugge), co-scripted (with Jeremy Pikser), and stars in this political satire, a comedy drama about a U.S. senator who decides to start speaking the truth. Despondent California senator Jay Bulworth (Beatty), up for re-election, is disillusioned by the usual campaign banalities; his marriage to Constance (Christine Baranski) seems equally hollow. In the midst of a nervous breakdown, Bulworth goes without sleep or food for three days and takes out a ten-million-dollar insurance policy on himself while arranging his own assassination. Drinking during a return to Los Angeles, Bulworth is scheduled to speak at an African-American church in South Central L.A. Once there, he tosses aside his prepared speech, startling both the audience and his campaign manager, Murphy (Oliver Platt), by improvising truthful remarks instead of the familiar rhetoric. These loose-cannon salvos gain the attention of an attractive young woman, Nina (Halle Berry). Bulworth finds an exhilaration with this new freestyle approach, and after shocking a gathering in Beverly Hills with further fulminations, Bulworth invites Nina and her girlfriends into his limo. During a spaced-out sojourn at one of South Central's more frenzied after-hours clubs, Bulworth gains respect for hip-hop culture.Still reeling from insights gained by this nightlife, he arrives the next day for a fundraising function at the Beverly Wilshire, startling everyone with a diatribe delivered in the intonations of a rap artist. His interest in Nina and his new optimistic outlook on life give Bulworth a sense of elation and a will to live. He phones to call off the hit, but the gears have been set in motion. After an assumed hitman turns up during a church appearance, Bulworth flees, and Nina offers him a safe-house hideout at the home of her family, veterans of the civil rights movement. Here Bulworth goes through the final steps in his transformation -- making a Kennedy-styled connection with the disenfranchised as he tunes in to forgotten memories of the '60s. Outfitted in homeboy clothing, the born-again Bulworth heads for a TV station to unleash even more caustic comments on the American political scene. ~ Bhob Stewart, Rovi
Critic Reviews for Bulworth
Audience Reviews for Bulworth
A decent social/political satire.
Thomas Johnston
Super Reviewer
One of my all time favorite movies ever. Engaging characters, great humor, and poignant political satire (if you listening closely to Warren Beatty's raps).
Jason Robinson
Super Reviewer
Michael Gildea
Super Reviewer
Bulworth Quotes
| | |
| --- | --- |
| Jay Bulworth: | What we used to call America, that going down the drains. |
| | |
| --- | --- |
| Jay Bulworth: | We got a club. Right? Republicans, Democrats, what's the difference? Your guys, my guys, our guys, us guys. It's a club. |
| | |
| --- | --- |
| Nina: | The power of a media that's continually controlled by fewer and fewer people, add to that monopoly of the media , a consumer culture that that's based on self-gratification, and you're not likely to have a population that wants leadership that calls for self-sacrifice. |
| | |
| --- | --- |
| Jay Bulworth: | Now over here we have our friends in oil they don't give a shit how much wilderness is spoiled. They tell us that they're careful, we know that it's a lie, As long as we keep driving cars, they let the planet die. |