Bunny and the Bull
(2008)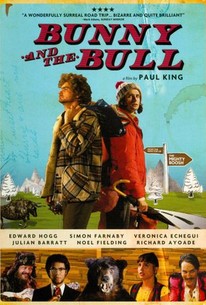 Bunny and the Bull Photos
Movie Info
Stephen Turnbull hasn't been outside in months, and when he finds his mind hurtling back to the disastrous trek around Europe he undertook with his friend Bunny, a catalogue of adventures unfold. Stephen's flat becomes the springboard for an extraordinary odyssey through lands made up of snapshots and souvenir replica landmarks within his imagination. "Bunny & the Bull" is a touching and beautiful journey to the end of the room.
Critic Reviews for Bunny and the Bull
Audience Reviews for Bunny and the Bull
An agoraphobic young man remembers (or hallucinates) a trip he took across Europe with his hard-drinking, sexually voracious, gambling-addicted pal Bunny. Starts off with an interesting premise but it gets lost in sketch comedy-styled road trip scenes (including a tasteless bit about a homeless Russian dog herder); the high-artifice art direction is sometimes brilliant but stylistically inconsistent, as if they ran out of money halfway through production.
A shut-in remembers a holiday he had a year ago with his best friend and a beautiful Spanish waitress. I agree with a lot of what Super Reviewer Alice Shen has to say about this film -- the comparison to The Science of Sleep and the fine performances by the three leads. But I found the dramatic elements of the story too slowly developed and the climactic resolution contrived. Also, I didn't like The Science of Sleep finding its quirk distracting from the plot; that's only less true in Bunny and the Bull. Overall, this is a charming, delightful film when it tries not to be the drama it thinks it is.
Jim Hunter
Super Reviewer
Is this movie not the most delightful thing you've ever seen? Does it not just charm you out of your gourd? It's a little similar to Michel Gondry's The Science of Sleep - the whimsical cardboard sets and the awkward shell of a leading man - but Bunny and the Bull always hints at an unresolved tragedy and delivers well on that promise. The quirky flashcuts and calliope music are reminiscent of Amelie, but despite all these similarities or homages, the story has a different heart and a different brain. Edward Hogg is passionately forlorn; Simon Farnaby is likably skeevy; and Verónica Echegui is cutely beguiling. She's like Penelope Cruz for the indie masses. "Are you fucking my face?"
Alice Shen
Super Reviewer
Bunny and the Bull Quotes
There are no approved quotes yet for this movie.