Bunny Lake Is Missing
(1965)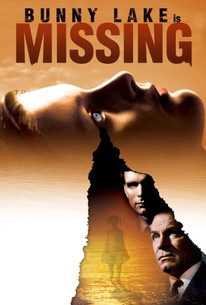 Bunny Lake Is Missing Photos
Movie Info
Based on the mystery novel by Marryam Modell (using the pseudonym Evelyn Piper), Bunny Lake Is Missing is a bizarre study in motherhood, kindness, enigma, and insanity. Ann Lake (Carol Lynley), an American freshly relocated to England, wishes to drop off her daughter Bunny for the girl's first day at a new nursery school. Oddly, Ann cannot locate any teachers or administrators, only the school's disgruntled cook (Lucie Mannheim). She is forced to leave Bunny unsupervised in the building's "first day" room, under the reassurance that the cook will be responsible for the child. When Ann returns in the afternoon, the cook has quit and Bunny Lake is missing. The school's remaining employees vehemently deny ever seeing the child, and Ann desperately calls her older brother Stephen (Keir Dullea) for help. Ann was raised fatherless and never married; she and Bunny have lived under Stephen's care and protection for the majority of both their lives. Stephen is enraged by the irresponsibility of the staff, but as Scotland Yard begins its investigation, it comes to light that he had never officially enrolled a child at the school. When Police Superintendent Newhouse (Laurence Olivier) begins to unravel the Lakes' lives and search their belongings, he discovers that not only did Ann once have an imaginary childhood daughter named "Bunny," but that the young Bunny seemed to have no tangible possessions at the Lake apartment. Bunny Lake (whom we have yet to see onscreen) may not be missing: she may not even be real. Terrified that Newhouse will now abandon the search for the girl, the hysterical Ann sets out to prove her sanity and, in the process, surprisingly uncovers the true psychosis behind the disappearance of her little Bunny Lake.
Critic Reviews for Bunny Lake Is Missing
Audience Reviews for Bunny Lake Is Missing
½
Whenever I watch a good film and don't like it, I feel like I'm missing something. And this was one of those moments. Okay, not entirely true, I liked *parts* of it. The ending. Oh my god. Painful. I dunno. Mixed.
Jennifer D
Super Reviewer
!!! SPOILER ALERT !!! This movie sucks.
Bob Stinson
Super Reviewer
½
umm wtf? one of the most ridiculous 'thriller's i've seen. the americans were just embarrassing, especially in the final scene. olivier can do no wrong and noel coward was hilarious but otherwise i'm pretty sure i laughed at all the wrong parts. still entertaining in a perverse kind of way
Stella Dallas
Super Reviewer
Bunny Lake Is Missing Quotes
There are no approved quotes yet for this movie.