Bunraku
(2011)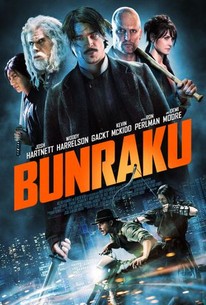 TOMATOMETER
AUDIENCE SCORE
Critic Consensus: Bunraku admirably strives for visual panache, but the staging, acting, and effects are dismal with a complete lack of excitement.
Movie Info
A mysterious drifter (Josh Hartnett) and an ardent young Japanese warrior Yoshi (Gackt) both arrive in a town that has been terrorized by outrageous and virulent criminals. Each is obsessed with his separate mission, and guided by the wisdom of The Bartender (Woody Harrelson) at the Horseless Horseman Saloon, the two eventually join forces to bring down the corrupt and contemptuous reign of Nicola (Ron Perlman), the awesomely evil "woodcutter" and his lady Alexandra (Demi Moore), a femme fatale with a secret past. This classic tale is re-vitalized and re-imagined in an entirely fresh visual context, set in a unique world that mixes skewed reality with shadow-play fantasy, a place where even the landscape can betray you. -- (C) Picturesque Films
Critic Reviews for Bunraku
Audience Reviews for Bunraku
Films like this really need to manage their style and substance. Josh Hartnett plays a lone stranger in a world where guns have become outlawed. He is joined by lone swordsman, and the two form a friendship with a bartender. They each have their own gripes with the mysterious leader of the town, who is protected by a group of assassins. Bunraku starts off really cool, and the visuals continue to impress throughout. It takes on forms of puppetry at times, and also uses the aesthetics of a pop-up book for its transitions. The wonderfully constructed sets hide the limited budget and the action scenes are competently choreographed. All this said though, it is certainly reminiscent of every western ever made. By paying too much homage, the twists and turns become apparent early on. An exciting and fun film, but when something looks this good, you wish it try a little harder.
Luke Baldock
Super Reviewer
What a very strange movie. It looks like it was shot on the same soundstage (and with the same crew) as Repo! The Genetic Opera, with its lush and surreal colour scheme and odd use of animation in the narrative. In this world, there are no backgrounds, only trompe d'oeil paintings, and people often hang chandeliers outdoors while cultivating rock gardens in their homes. I get the feeling that more interesting things could have been done in a movie world where the mob is in full force but guns don't exist. I think one of the biggest troubles of this movie is the fact that all the characters are so terribly, otherworldly cool that the writers and actors forgot to make them real. I couldn't connect with anyone. Everyone was as invincible, or sullen, or artificially flawed as the heroes of Livejournal poetry. They are simply instruments upon which to hang all the novel ideas of this film, but I really didn't care about what happened to anyone. Actually, I'd like to see another story, written by someone else that takes place in this diegetic world. Hmm. Off to read fanfic!
Emily Armstrong
Super Reviewer
Style to spare but nothing else to offer. Unoriginal, thin, overlong, and often silly.
Bunraku Quotes
| | |
| --- | --- |
| Nicola: | "Someone once told me, there is always someone more powerful than you" |
| Nicola: | Someone once told me, there is always someone more powerful than you. |
| The Drifter: | "Someone once told me, there is always someone more powerful than you" |
| | |
| --- | --- |
| Bartender: | The hero is not always the strongest man, sometimes it's the just the guy who leads the way. |
| | |
| --- | --- |
| Bartender: | Gangbusters. Cowboy in world without guns, and a samurai with no sword, team up to defeat a common evil. |