Bunty Aur Babli
(2005)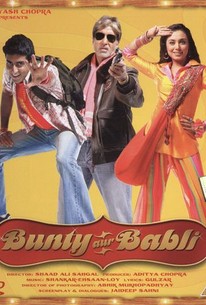 Movie Info
Bunty and Babi are two avid dreamers -- two free souls born into caged small town realities. They grow weary of being two specks on the horizon. They desire the horizon itself. And, so they pack their aspirations in worn out bags, whip a scarf of confidence around their proud necks and set forth on a journey across the length and breath of the country, spinning circles around the people they meet.
Critic Reviews for Bunty Aur Babli
Audience Reviews for Bunty Aur Babli
Here is a hilarious movie that follows a pair of devious misfits that are out for the ultimate goal: success! Rakesh and Vimmi are looking for life beyond their small town, and they hope that their parents would be able to understand their needs. Rakesh despises a bland ticket counter job that his own father occupies, and searches for a quick money scheme that will land him instant success. Vimmi is opposed to marriage with a stranger, and dreams of becoming a supermodel. The two decide to leave home in search of those dreams, but reality gives them a rude awakening. As their dreams fall short, they are ready to accept defeat. Then, the two meet in a train station and decide to give success another shot. As this also fails, the two embark on a crazy, cunning adventure of ?cleaning? and ?scheming? to get money. One escapade right after another, the two begin to fall in love and are set with a vast decision that will lead them to accept that this quick-money plan will end soon. As a lonely policeman follows their trails, the two are running out of places to run and hide. Great cast- Abhishek Bachchan, Rani Mukherjee, and Amitabh Bachchan. Great performance by Aishwarya Rai. Filled with tons of laughter! Definitely worthy!
Bunty Aur Babli Quotes
There are no approved quotes yet for this movie.