Burying the Ex
(2015)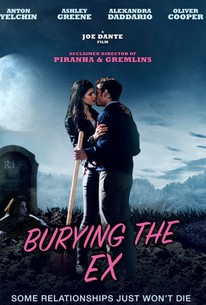 TOMATOMETER
AUDIENCE SCORE
Critic Consensus: Burying the Ex boasts flickers of director Joe Dante's former flair, but neither the concept nor its execution live up to the standard set by his best efforts.
Movie Info
It seemed like a great idea when all-around nice guy Max (ANTON YELCHIN, Star Trek) and his beautiful girlfriend, Evelyn (ASHLEY GREENE, Twilight Saga) moved in together. But when Evelyn turns out to be a controlling, manipulative nightmare, Max knows it's time to call it quits. There's just one problem: he's terrified of breaking up with her. Fate steps in when Evelyn is the victim of a fatal, freak accident, leaving Max single and ready to mingle. Just as Max is thinking about moving on with what could be his dream girl, Olivia (Alexandra Daddario, True Detective) - Evelyn has returned from the grave and is determined to get her boyfriend back...even if that means transforming him into one of the undead. (C) RLJE/Image Entertainment
News & Interviews for Burying the Ex
Critic Reviews for Burying the Ex
Audience Reviews for Burying the Ex
Incredibly lame and lifeless, Burying the Ex is a poorly made horror-comedy from Joe Dante. The love life of a shop keeper named Max gets complicated when his ex-girlfriend rises from the grave several weeks after getting hit and killed by a bus. Starring Anton Yelchin, Ashley Greene, and Alexandra Daddario, the film has a pretty good cast. Their performances however, are rather weak. And the plot is quite perfunctory, endlessly dragging out Max's attempts to breakup with his dead girlfriend. Still, the film has its moments and delivers a few laughs. But overall, Burying the Ex is a lackluster effort by Dante that fails to deliver anything clever or original.
Dann Michalski
Super Reviewer
mediocre at best and I expected much more from Dante. He was the master of horror comedies for a long time so I was a little disappointed
Brendan O'Connor
Super Reviewer
More often than not, when I rate a film two or two and a half stars, I'm coming from a place of "Well it's not really for me, but I guess I could see why it might have appeal". Burying the Ex on the other hand comes from a place exactly opposite to that. It's like every five minutes there was something dropped precisely to cater to my interests, but there's no appeal at all. And no amount of goth bars I'd kill to have in my town, horror-themed ice cream parlours, Joe Dante directorial credits or Alexandra Daddario getting her kit off in a graveyard can make up for that. It's not outright boring, which is certainly welcome, but it's horror that's not scary, comedy that's not funny, and bears not one but two life lessons that seem well learned until they're *both* dropped in the final scene. I'm not going to make any "Should have stayed buried" digs, because it's really not *that* bad, but I'm not going to recommend it either.
Burying the Ex Quotes
There are no approved quotes yet for this movie.