Busting
(1974)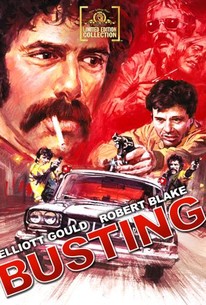 Movie Info
Peter Hyams made his feature-film directing debut with this clumsily paced crime film concerning two Los Angeles vice-squad detectives. Michael Keneely (Eliott Gould) is the swaggering non-conformist and Patrick Farrel (Robert Blake) is the cocky follower. The two cops live for their work and spend most of their time busting call girls, massage parlor employees, and homosexuals. Keneely and Farrel eventually come to the conclusion that every criminal act in Los Angeles is due to the efforts of crime lord Carl Rizzo (Allen Garfield). The boys begin to harass Rizzo to the point of distraction, but their singular attempts to arrest Rizzo cause them to become the targets of, not only the criminal population, but the police force as well.
Critic Reviews for Busting
Audience Reviews for Busting
½
Like so many other buddy cop films from the 70s, "Busting" is seriously misguided and bears all the trademarks of a director experimenting with social taboos. Plus, it's severely lacking in almost every aspect designed to make it an enjoyable experience. Elliot Gould and Robert Blake sleepwalk through their roles and have a laughably low amount of chemistry together, even though they do share a few great, but woefully short-lived scenes set in a public bathroom. As well, Peter Hyams' flatfooted direction cripples the film's pace, which is hurt even more by a boring and confused screenplay. "Busting" just takes way too long to get started and when it finally does, it completely unravels and falls apart when it reaches its silly, poorly executed finale, which is embarrassingly free of suspense. I usually like giving older, lesser known films a chance, but this one deserves to stay forgotten.
Stephen Earnest
Super Reviewer
A very cynical buddy cop movie from the seventies with some sharp, funny dialogue and real chemistry between the stars Elliot Gould and Robert Blake. A little known gem that Hyams virtually remade in the 80s as Running Scared.
Busting Quotes
There are no approved quotes yet for this movie.