But I'm a Cheerleader
(2000)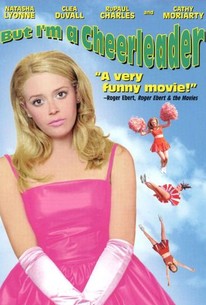 TOMATOMETER
AUDIENCE SCORE
Critic Consensus: Too broad to make any real statements, But I'm a Cheerleader isn't as sharp as it should be, but a charming cast and surprisingly emotional center may bring enough pep for viewers looking for a light social satire.
But I'm a Cheerleader Photos
Movie Info
Confident and opinionated, 17-year-old Megan is far too strong-willed for her unsuppportive parents, who begin to worry she is a lesbian. Their solution is to send Megan to 'True Directions,' a "rehabilitation camp" run by homophobic counselor Mary Brown. Soon Megan meets the equally defiant Graham, and the two form a fast friendship. Ironically, the more time Megan spends at the camp, the more she begins to question just how fixed her sexuality really is.
News & Interviews for But I'm a Cheerleader
Critic Reviews for But I'm a Cheerleader
Audience Reviews for But I'm a Cheerleader
½
Even as an exaggeration, with its overuse of pink/green and showing the rehab camp people as caricatures, this smart satire is actually sadder than funny when you realize it is not so far from reality, especially when you see that idiots like that really exist trying to cure gays.
Carlos Magalhães
Super Reviewer
½
This is a film that not only the gay community has rallied around, but most stigmatized people have come around to because not only does it satirize the gay community, reparative therapy camps, and prejudices, but also gender norms and roles. Director and story creator Jamie Babbit took on the world of the constructed gender role by not only openly mocking them, but showing what their impact is. Besides making fun of these biases against either gender, Babbit also makes the audience angry and insightful, bringing greater awareness to the issue of gay teens. The main character (Lyonne) is chosen to be a femme personality, shown as the All-American cheerleader, and that choice makes it easier for the audience to relate to the character and her troubles. Babbit also reinforces this concept by creating a color palette of pink and blue to show the revolting charade of gender stereotypes such as athleticism in men and household aptitude for women. The characters are all well-defined and always entertaining, the love interest is thoughtfully written, and besides having a message this film is also funny at every turn. Part of this has to be in the specific casting of the film, which includes a post-"American Pie" Natasha Lyonne, the always dark and sinister Clea DuVall, timid and yet not tepid Melanie Lynskey, RuPaul as a counselor, and Eddie Cibrian as the blissfully unaware Rock. Even Bud Cort and Mink Stole show up to play the parents. Everything about this film feels like its inspiration, John Waters. Besides the lovably kooky characters and sets, every one of these kids is treated with the utmost care and love. Being gay is celebrated in this film, and in the most entertaining way possible. It's encouraging to see a film that isn't catty or acidic with its comedy and knows how to show teenage gay characters in a positive light.
Spencer S.
Super Reviewer
A lesbian cheerleader goes to a faith-based camp to "reform" homosexuality. When Ted Haggard claimed that he could essentially "pray the gay away," I thought that not only was it one of the most ridiculous things I had ever heard but that it would also work as fantastic fodder for satire. But I'm a Cheerleader should be that satire. It isn't. It ultimately fails because it reduces its homosexual characters to stereotypes that we've seen many times before, and the "villains," the evangelists who attempt to guide the main characters away from their tendencies, are reduced to hypocrites rather than earnest people committed to a social/cultural mission. Thus, every character becomes a type rather than a person, and the situations are so contrived and over-the-top that it becomes difficult to understand if the film takes its own subject matter seriously. Overall, I like the idea for this film, but the execution was sorely lacking.
Jim Hunter
Super Reviewer
But I'm a Cheerleader Quotes
There are no approved quotes yet for this movie.