Butter
(2012)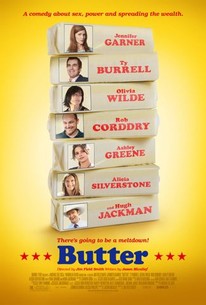 TOMATOMETER
AUDIENCE SCORE
Critic Consensus: Despite its talented cast and a few funny moments, Butter's satirical aims are largely undone by a lack of subtlety and air of smugness.
Movie Info
Butter follows an ambitious woman (Jennifer Garner) who is married to Iowa's reigning butter sculpting champ (Ty Burrell) but decides to enter the race on her own when he retires. She's the shoo-in until an adopted young black girl (Yara Shahidi) discovers she has an uncanny talent for butter-carving and becomes a late-breaking favorite. -- (C) Weinstein
Critic Reviews for Butter
Audience Reviews for Butter
½
Who knew butter could be so interesting. Lol. This kind of reminded me of "Election". Jennifer Garner's overachieving character definitely had a Tracey Flick vibe to her. Bitching, backstabbing, a scheming hooker, what's not to like in this very black little comedy drama.
Nicki Marie
Super Reviewer
Cute, and witty. Really well done. Excellent cast. Perfect Sunday afternoon movie....
Cynthia S.
Super Reviewer
There's going to be a meltdown. Good decent movie! Butter is a delightful little comedy that has most of its best jokes in the trailer but still manages to make you smile throughout. I'll admit, when I watched this I didn't have particularly high hopes. The film's strength is its short run-time. At a little over 80 minutes, the film opens up quick, makes you chuckle and sometimes laugh, and wraps up before you worry about its problems. It is necessary for me to address these problems but I honestly didn't care much for them. I had a lot of fun watching it. In Iowa, laid-back Bob has won the state fair's butter-carving contest 15 years running; his tightly-wound and hard-charging wife Laura sees Bob becoming governor, so when the contest organizers ask him to step aside so others can win, she's incensed; when Bob won't protest, she decides to enter herself. In the county contest, she's up against Destiny, an African-American foster child, and Brooke, a prostitute Bob hasn't paid. When things don't go Laura's way, she enlists the help of Boyd, an old boyfriend. Laura's step-daughter and Destiny's foster parents are in the mix as things heat up at the state fair. What are Destiny and Laura's destiny?
Butter Quotes
| | |
| --- | --- |
| Ethan: | You could die of a tragic butter overdose. There could be a rabid grizzly bear hiding inside this very moose lodge waiting to tear your face off. |
| Destiny: | There could be a python inside. |
| Ethan: | What if this place is full of monkeys with a deadly virus? |
| Destiny: | It could be the ghost of Hitler. |
| Ethan: | What if there's no gravity in there and you float up and bang your head on the ceiling? And then all the sudden gravity kicks in and you bang your head on the floor. |
| | |
| --- | --- |
| Destiny: | My new foster parents and everyone at my new school were so nice, that I couldn't help but think, are these crackers for real? |
| | |
| --- | --- |
| Brooke: | Hey, I know you're only like 10 and shit, but listen up. You beat that skanky ass bitch. You beat her hard. I've done all I can do. It's up to you know. |
| | |
| --- | --- |
| Ethan Emmet: | It's butter. You put it on toast! |