Butterfly
(1982)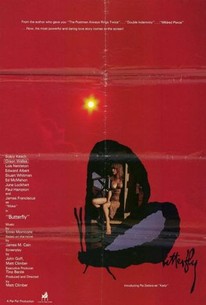 AUDIENCE SCORE
Critic Consensus: No consensus yet.
Movie Info
Pia Zadora stars in an over-cooked melodramatic adaptation of the 1946 James M. Cain novel that is every bit as smutty and sleazy as Zadora's vampish character of Kady. The location of the novel has been switched from Appalachia to the barren lands of Arizona and Nevada in 1937. Stacy Keach plays Jess Tyler, a desert hermit who has spent years guarding an abandoned silver mine. Suddenly, Jesse is confronted by his very grown-up and sexy daughter, who, when she was a baby, had been taken away from him by his wife, Belle (Lois Nettleton). Kady, it so happens, hasn't come home for a family reunion -- she has just been dumped by a rich young man who is the father of her illegitimate child and whose family owns the very silver mine that Jess is guarding. Kady hopes to use her feminine wiles to seduce Jess and reopen the mine and extract the money from the earth that she feels is due her from the family. As if his seductive daughter walking around bare-breasted in front of him isn't enough, Jess must also deal with the sudden return of his older daughter, Janey (Ann Dane), who appears with Kady's son; Belle, who comes back to Jess dying of tuberculosis; and Moke Blue (James Franciscus), the man who stole Belle away from Jess years ago. Also squeezing his way into Jess's shack is Wash Gillespie (Edward Albert), the father of Kady's child, who now wants to marry her. Butterfly also features Orson Welles as Judge Rauch.
Critic Reviews for Butterfly
All Critics (3) | Top Critics (2) | Fresh (1) | Rotten (2)
Butterfly is a decrepit lust-in-the-dust melodrama with as much relevance and far less humor than Tobacco Road.


Producer-director-cowriter Matt Cimber, known heretofore mainly as a soft-core filmmaker and a master of wringing out big production values from tiny means, again does a lot with a slim budget of less than $2 million.
Audience Reviews for Butterfly
After watching Butterfly I was convince that this is worst movie from 1981. I decided to check out the novel, "The Butterfly", the movie was base on in hopes that the novel was redeemable in some way. It was a perfect adaptation, just like the novel, it's a complete waste of your time and you'll feel unclean just by watching it. According to the back of box which I wish was made up, Butterfly is about a slutty 17 year old girl, Kady, trying to seduce her 40 something father Jess Tyler. The movie is simply boring, the plot goes nowhere, the dialogue is astonishingly stupid, the music makes you want to fall asleep, and most importantly disgusting. Even though we learn Jess Tyler is not Kady father near the end of the movie, the damage is already done by then. You have no idea how creepy it felt watching the "bathtub scene" thinking a father is touching his daughter very sexually in a bathtub when she is naked. The Jess Tyler character had one redeemable quality that prevented me from despising this movie, that was until he had sex with a minor which is just wrong. What shocked me was this movie was being sold as a "cult" movie which it is not simply because there's nothing likable in the movie and nothing remotely entertaining about it. My ranting still continues simply because this movie is just plain awful and unholy in every way possible. There's nothing appealing to look at in the movie. Pia Zadora who plays Kady always looks like a mess, Stacy Keach has that creepy guy you would never trust your kids look, and who can forget the inappropriate music that make this movie feel even creepier than it already is. It's truly pathetic that the best thing to look at in this movie is the desert which the movie shows us many time and it's always the same.It's dry, boring, and empty of any intelligence and good morals. Speaking of morals, the main lesson you learn from this is that incest is okay and that having sex with a minor in no way has any consequences in a religious society. This movie takes itself too seriously and makes you hate anyone who committed incest simply because of how much you hate everybody in the movie. The only closely likable person is Orson Welles who no doubt must regret agreeing to be in this, he gives a hamming performance and seems to be the only person who knows how rightfully act in the movie. By this point you already get the idea that I truly hate this abomination of a movie, but it gets worst believe it or not. Pia Zadora won an Golden Globe over Elizabeth McGovern and Kathleen Turner in 1981. What makes this more ironic is that it was also nominated for 10 Golden Raspberry Awards in 1982 including "Worst Picture". Pia Zadora won for "Worst Actress" and "Worst New Star" whilst Ed McMahon won "Worst Supporting Actor" which both of them truly deserved and earned for this very inappropriate movie. The worst part is that this movie got made. How? I'll tell you, it was financed by Meshulam Riklis who was at the time the husband of the film's lead star Pia Zadora, it's unbelievable. Both the novel and movie are trash and should be avoided at all time. Butterfly is the worst movie from 1981 and is simply unholy, creepy, boring, and hateful in every way possible. This movie serves as an prime example for everything I hate about movies. Don't watch this and stay away from it at all cost, you'll end up simply hating yourself if you do.
Caesar Mendez
Super Reviewer
Butterfly Quotes
There are no approved quotes yet for this movie.