Butterfly and Sword
(1993)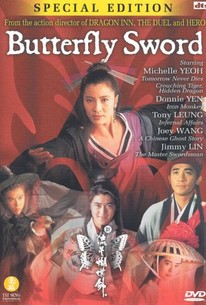 AUDIENCE SCORE
Critic Consensus: No consensus yet.
Movie Info
Michelle Yeoh (aka Michelle Khan) began her comeback bid with this flamboyant Hong Kong action film from director Michael Mak and choreographer Ching Siu-tung. Based on a novel by Ku Long, previously filmed in 1976 as Killer Clans, the film stars Yeoh as Sister Ko, part of the Happy Forest clan led by the dying eunuch Tsao. Before he expires, Tsao orders Ko and her friends to kill the head of the Elite Villa clan, Master Suen (Elvis Tsui), and steal a precious scroll. Yip Cheung (Donnie Yen) leads the first assault and fails, so Ko gets the skilled killer Sing (Tony Leung), whom she has a crush on, to help. Sing is engaged to Butterfly (Joey Wang), who has no idea that he is actually a trained assassin. When Sing infiltrates Master Suen's clan, he meets his childhood friend, Ho Ching (Yeh Chuan-chen), who is also working undercover for Sister Ko. Ho Ching's murder sets the stage for an angry encounter between Sing and Sister Ko, the final assault on the Elite Villa clan, and the revelation of a secret betrayal. Pop singer Jimmy Lin appears as Prince Cha; some of the fight scenes were later re-used in Chu Yen-ping's erotic Category III melodrama Slave of the Sword, which was filmed on the same sets later in the year.
Critic Reviews for Butterfly and Sword
Audience Reviews for Butterfly and Sword
Throw-everything-at-your-face old school wuxia crazyness. The credits say it was written by just one person, but you can tell there was probably a dozen of hands writting everything from stand alone scenes to one or two dialogues. What truly gives the movie it's juice is the characters and their interactions. A love triangle between Yeoh, Tony and Donnie, plus a good supporting cast and of course, Ching Siu-Tung pulling some wild over the top fight sequences. Nothing stands against the flying arrow bitch!
Tsubaki Sanjuro
Super Reviewer
½
In these post Hero and House Of Flying Daggers (which actually has some ideas and sequences in common with this) times we have come to expect rather more from martial arts stories. The action is non-stop and impressively staged, and it has all the same ingredients; balletic fight scenes, flowing fabric and themes of love and honour. Unfortunately it suffers tremendously as far as production value and cinematography are concerned, as it all looks rather crude and artless in comparison. Michelle Yeoh and Tony Leung Chiu-wai are always watchable and hardcore martial arts fans will enjoy the breathless (and constant!) action, but it offers precious little else.
Butterfly and Sword Quotes
There are no approved quotes yet for this movie.