Buying the Cow
(2000)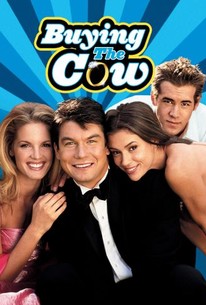 AUDIENCE SCORE
Critic Consensus: No consensus yet.
Movie Info
After five years of dating, David (Jerry O'Connell) gets what he feels is an ultimatum from his girlfriend, Sarah (Bridgette Wilson). She thinks they should get married. When his old buddy, Tyler (Ron Livingston of Swingers), a legendary womanizer, calls to announce his wedding plans, it only increases the pressure on David. When Sarah leaves town on a business trip, David has a chance to explore his options. He turns to his friends, Jonesey (Bill Bellamy), and the unrepentant lothario Michael (Ryan Reynolds, who also starred in director Walt Becker's National Lampoon's Van Wilder) for advice. Jonesey half-heartedly encourages David to marry Sarah. Michael, who treats women shabbily, tries to talk David out of it. David tells his friends about an epiphany that he had many years earlier, when he saw beautiful blond Julie (Erinn Bartlett) in an airport, and was instantly smitten. He knew she was the one. He courageously handed the strange girl his phone number, and a brief romantic correspondence ensued, but it ended disastrously. Uncertain about his destiny with Sarah, David spots another woman at a Mexican restaurant, and has the same feeling he had with Julie. He spends a lot of time and effort trying to track this mystery woman down, while Sarah, frustrated by their lack of progress, considers ending their relationship. Michael, meanwhile, has a real identity crisis, when he wakes up in a strange bed after a night of drinking, drugs, and debauchery, only to find a gay man in the bedroom with him. Buying the Cow also stars Alyssa Milano, Annabeth Gish, and Jon Tenney. The film was co-written by director Becker and Peter W. Nelson.
News & Interviews for Buying the Cow
Critic Reviews for Buying the Cow
All Critics (3) | Fresh (1) | Rotten (2) | DVD (3)
My gut still hurts from laughing.
August 17, 2008 | Rating: 3/5
Borrowing from romantic comedies and gross-out flicks, it tries to appeal to everybody, but this misogynistic chick flick instead pleases nobody.
April 5, 2003 | Rating: 25/100
Audience Reviews for Buying the Cow
trys surprisingly hard but the comedy just isn't there. reynolds was the only one who was remotely funny and saved this from being a complete dud
Brendan O'Connor
Super Reviewer
½
I thought it was funny! Fun to watch on a Saturday night....alone....drinking...eating raviolis. I loved when he woke up and didn't know who he slept with. Just goes to show ladies! Never put an ultimatum on your man because it could backfire! And do you really want him if you have to do that in the first place? Also, goes to show sometimes your soulmate isn't the one you are with. Ok I'll stop! But I still liked it! Ryan Reynolds and Jerry O'Connell gave me a good night :)
Buying the Cow Quotes
There are no approved quotes yet for this movie.