Bye Bye Brasil
(1980)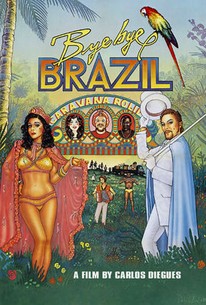 AUDIENCE SCORE
Critic Consensus: No consensus yet.
Movie Info
Bye Bye Brazil, the gifted director Carlos Diegues' follow-up to his 1978 Xica da Silva, became one of the most popular and fiscally successful imports of late '70s and early '80s South American cinema. Bye Bye is a muted and low-key ensemble drama about a shabby circus crawling from small town to small town through the Brazilian backwaters. As the curtain rises before us, the circus claims three participants: the slightly scary, medicine-show-like leader, Lorde Cigano (Jose Wilker), who sports a carnival-like 19th century mustache and cape, and keeps the audience mesmerized with magic tricks; the erotically charged, raven-haired dancer Salome (Betty Faria), "Queen of the Rumba"; and the deaf-mute strongman Swallow, who doubles as a fire breather. The troupe quickly adds yet another member shortly after the story begins: the strapping young accordion player Cico (Fabio Junior). He signs on with the circus when he catches sight of Salome, and is thus lost to his expectant wife, Dasdo (Zaira Zambelli) forever -- despite his obligation to cart the missus along with the troupe. The preponderance of the drama explores the shifting relationships between the circus members over the course of their journeys; it also reveals how endangered the troupe has become, both by the inability of locals to pay (the performers accept melons and other edible goods as recompense) and by competing entertainments such as television. These endangerments will ultimately force Cigano and co. beyond desperation -- to the point of ending the circus altogether and prostituting out Salome and Dasdo, just to turn a buck. ~ Nathan Southern, Rovi
Audience Reviews for Bye Bye Brasil
While it may seem that it lacks a stronger conclusion, this deceptively simple road movie benefits from some fine performances and uses a lot of humor to address social matters and discuss the alienation of a people struggling to find its own identity in decadent times.
Carlos Magalhães
Super Reviewer
½
This is actually such a bizarre and one of a kind experience that I honestly can't say it's bad. This has some accidentally amazing qualities. The aftershock of American pop culture seeping through the soundtrack is extremely goofy and cheesy, but it totally made me love watching it. Visually it's great and the characters are really kooky and memorable. I think the fact that it was made during a time of political and social change makes it extremely interesting. It's by no means perfect, but definitely worth seeing.
Conner Rainwater
Super Reviewer
Bye Bye Brasil Quotes
There are no approved quotes yet for this movie.