Bye Bye, Love
(1994)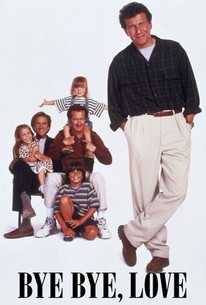 Movie Info
Three divorced fathers struggle to bond with their children and to deal with their conflicting emotions about their ex-wives in this comedy drama. Dave and his ex get along pretty well, but since the divorce, he has become a bit of a rake and is loathe to commit to his new girl friend. Donny still pines for his ex, while Vic would like to see his former wife and her new lover die slow, painful deaths. The three men come together to discuss their new and past experiences. Although at first their stories are presented episodically, eventually their multi-layered lives converge on one chaotic night.
Critic Reviews for Bye Bye, Love
Audience Reviews for Bye Bye, Love
Very disturbingly and shockingly, I enjoyed this Mild/Family Comedy. It was a paticularly a warm-your-heart comdedy, than a laugh-your-frickin'-ass off, Piss your pants comedy. Modine and Quaid make this one enjoyable flick.
Joseph Eastmond
Super Reviewer
½
I liked this movie. The three divorced men care about their children, and have difficulties with dating after their divorce. The kids more-or-less understand the difficulties of divorce, so I see the movie as providing some hope for a lousy situation.
½
This is good. The story deals with a lot of characters but doesn't feel full or rushed. All of the characters are normal people and you can see why they are in the positions they are in. I liked seeing the journey of these people and the end was nice to see.
Jason Spencer
Super Reviewer
Bye Bye, Love Quotes
There are no approved quotes yet for this movie.