C+ jing taam (The Detective)
(2007)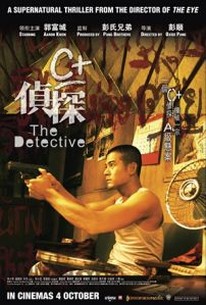 AUDIENCE SCORE
Critic Consensus: No consensus yet.
C+ jing taam (The Detective) Photos
Movie Info
Aaron Kwok stars as a seedy Thailand detective named Tan who becomes drawn into a deadly mystery after his best friend claims that he's being pursued by a murderous femme fatale. Trouble is, each new clue that Tan unearths leads him ever deeper into a deadly world of intrigue. As the body count begins to add up and Tan vows to discover the mystery woman's identity even if it costs him his life, it begins to appear that he, too, has been marked for death. Oxide Pang directs a script penned in collaboration with fellow scribe Thomas Pang.
Critic Reviews for C+ jing taam (The Detective)
Audience Reviews for C+ jing taam (The Detective)
½
Not that bad of a movie actually, just one that doesn't really always click in my view. I did like that the detective wasn't great at what he did. He's definitely very observant and inquisitive but he is a little dopey and that gave the film a more comical side that I wasn't really expecting out of this. Just thought it was gonna be one of those super serious mystery thrillers where having a sense of humor is akin to the world ending. The best part of the film is definitely the relationship the detective has with his best friend, a cop. This is where most of the comedy is drawn from. The murder mystery itself does a good job at keeping you intrigued throughout, even if it's not the most complex of stories. You're not watching the second coming of Seven here, after all. I think some of it feels contrived and hard to follow at times. But I'll readily admit that the subtitles sometimes go by too fast to fully read what the characters are saying. With that said, it still feels a little contrived as it borrows from many horror films. That's another thing, the film is a combination neo-noir with ghost story. If you've seen more than one Asian horror film then you could very easily predict what is going on here. I'm not the smartest guy around and I figured it out, so that must tell you how predictable the murder mystery actually is. The film does try to give Tan, or Tam, not sure what the detective's name is, Flixster says one thing and Netflix another, some "emotional" incentive for figuring out what happened to Sum, the missing woman he's looking for. His parents have been missing for thirty years and Tan, or Tam, has always had that doubt about whether or not they abandoned him. Figuring out what happened to Sum, in as contrived a way possible, led him to finding out that his parents were murdered. It was just a stupid way to close that part of the story. One case has nothing to do with the other. It doesn't really make any sense when you really think about it. They really didn't have a way to solve that part of the story, so they made it part of the Tan's main investigation. One thing I don't like about these movies is that it's all about solving the case and moving on, there's usually no incentive for the characters to solve the case other than the fact that it is their job to do so. At least this film tried to give the character an emotional incentive to want to solve it, even if he wasn't aware of the fact that solving the case would also lead him to find his parents until after the fact, but it's solved in such a hokey fashion that they may have just as well not even bothered bringing it up at all. But this movie is pretty decent all things considered. Some rough spots, as was to be expected given the rating. Can't really recommend it, but I can't condemn it so much either. This fits the definition of average down to a T.
Jesse Ortega
Super Reviewer
C+ jing taam (The Detective) Quotes
There are no approved quotes yet for this movie.