Cabin Boy
(1994)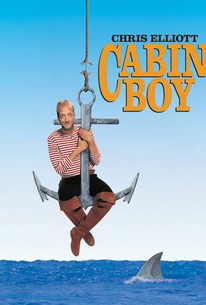 Movie Info
Chris Elliot lends his flat and charmless presence to Adam Resnick's equally flat and charmless Cabin Boy. Elliot plays Nathaniel Mayweather, a simpering, upper-class snob who has just graduated from the Stephenson Finishing School. At the school he has completed all the course work to become an official "fancy lad." He heads after graduation to set sail and take over the charge of his father's hotel in Hawaii. But instead of getting on the luxury liner Queen Catherine, he boards a stinking fishing scow, "The Filthy Whore." The dirty and surly crew refuses to take Nathaniel to Hawaii, so Nathaniel takes matters into his own hands and tries to change the course of the ship. That he does, but instead of Hawaii, he sends the vessel into a bizarre section of the ocean called "Hell's Bucket" --a Ray Harryhausen nightmare spot with walking icebergs, talking cupcakes, laughing clouds, six-armed-women, and giant hardware-store managers. Through all this, Nathaniel develops a romance with a long-distance swimmer, Trina (Melora Walters), that the fishing tug has snagged. The beatific romance comes to a head one night as Nathaniel and Trina stare into the star-lit sky. Trina bares her soul to Nathaniel, after which, Nathaniel responds, "Sorry. I was just thinking how much fun it is to roast pumpkin seeds."
Critic Reviews for Cabin Boy
Audience Reviews for Cabin Boy
½
I quite enjoyed this film and thought it was harmless fun. Chris Elliott has always been an aquired taste and the film rests souly on what your idea of him is. The film has great ambitions and when the film travels into its fantasy world it succeeds where the rest of the film lacks. full of interesting characters and great intentions, the silly premise is always a little hit and miss though which drags the film down when it should be gaining strength. this film has slowly developed into a cult favorite over the years and its clearly got Tim Burtons input. if you are looking for an interesting and weird film that was clearly before its tme then you'll find it hear. the film deserved a little more appreciation then it got.
Brendan O'Connor
Super Reviewer
Don't remember much about it.
Curtis Lilly
Super Reviewer
Cabin Boy is great! It seemed like a two-minute David Letterman skit stretched into a full-length motion picture, with Chris Elliot playing the perfect Cabin Boy. Silly cartoonish script, but I liked a lot of the dumb humour and adventures on the salty sailing ship. There were great fantasy creatures, including a mermaid, the snowman and the giant businesman; and even a mer-man! My favorite scene was when they set him out on his own raft to starve. A fun voyage indeed.
Lafe Fredbjornson
Super Reviewer
Cabin Boy Quotes
| | |
| --- | --- |
| Kenny: | My pipes are CLEAN! |
| Kenny: | These pipes are clean! |
| | |
| --- | --- |
| Kenny: | Somebodies daddies missing a leg! |
| Kenny: | [very, high voice ] Somebody's daddy's missing a leg! |
| | |
| --- | --- |
| Nathanial Mayweather: | These pipes are cleaned! |