Cabin Fever 2: Spring Fever
(2009)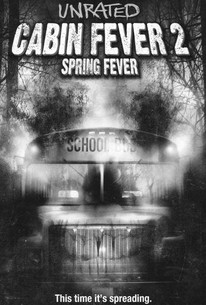 AUDIENCE SCORE
Critic Consensus: No consensus yet.
Cabin Fever 2: Spring Fever Photos
Movie Info
The flesh-eating virus that consumed a group of hapless college vacationers back in 2003 returns to crash a high school prom in director Ti West's gore-drenched sequel to the Eli Roth original. The Lost star Marc Senter joins a cast featuring Larry Fessenden, Giuseppe Andrews, Mark Borchart, and Rider Strong - who seems to have successfully sweated out his original case of Cabin Fever.
Critic Reviews for Cabin Fever 2: Spring Fever
All Critics (2) | Fresh (1) | Rotten (1) | DVD (1)
Campy horror that works for a fun night. Sometimes that's enough. [Full review in Spanish].
Without a doubt one of the worst horror movies ever made and one of the worst movies ever made.
Audience Reviews for Cabin Fever 2: Spring Fever
To say this is an awful film doesn't do it justice. I completely understand why Ti West tried to get his name off of this film, but how much of the blame he should take is still up in the air for discussion. The acting is terrible, the writing is so bad it made me cringe every time a character spoke, and the story is so stupid that you can't take it seriously whatsoever. The first one had an old school charm about it that made for a reasonably entertaining, albeit conventional, horror film. This one ratchets up the gore, throws in distasteful stunts, and is not fun to watch at all. They clearly had run out of ideas fast because they film adds in animation that is completely out of place at the beginning and end to pan the length and a couple of the plot strands get left in the dust. Just a horrible waste of time. One of the worst sequels I've ever seen.
Josh Lewis
Super Reviewer
Cabin Fever is a direct to DVD sequel to Eli Roth's film debut. Lacking in anything original, this is an awful mess of a film with poor effects, poor acting and even more surprising awful directing from usually competent director, Ti West. This is one of the worst sequels that I have seen and it is plagued from start to finish with everything that usually makes for a bad movie. I am very disappointed in this film as Ti West has made his mark with such stellar modern horror works such as The House of the Devil and The Innkeepers. However with this one, he misses the mark majorly and his lacks the skill to truly make something watchable here. However that is to be expected, as every filmmaker in the history of cinema has had that one movie that is just poorly made. In the case of Ti West, it is Cabin Fever 2. The dialogue between the characters is horrible, riddled with clichés and the characters are bland an uninteresting. If Eli Roth would have made this one, maybe it would have been better, as he was the one who created the original, however that was not to be, and it is a poor continuation of the story. The gore is here granted, but it looks fake and laughable. There are no redeeming aspects to this trash, and it never should have been made in the first place. If you're expecting something like the first film, you'll be sadly disappointed, as this one really doesn't deliver good gore or mindless entertainment value to appeal to horror fans. The first movie was no classic, but it had great gore and played out like an homage to classic horror cinema, which what made it a fun and entertaining ride. This on the other hand, is awful and misses the mark.
½
[img]http://images.rottentomatoes.com/images/user/icons/icon14.gif[/img] At the risk of being subjected to hate from infuriated fans of Eli Roth's original and all filmgoers who were expecting something scary rather than realising how the original in itself was a gorefest. I'll admit that i'm a fan of Cabin Fever 2 for a number of reasons. Firstly it benefits from the visually creative direction of Ti West who directed the incredibly creepy "House of the Devil" and recently made the slightly overhyped "The Innkeepers". Although they're slight the shocks of the film are results of brilliant directing and a bloodbath of gory set pieces which are put together well and then splattered in our faces. This is simply a film made for gorehounds and nothing more. When you consider that the original was an homage to 80's grindhouse cinema, this is a greater tribute. There are several moments in the film that aren't there because of director Ti West's creative hand, but are actually there because of the decisions of committee. Ti West himself disowned this film because his vision was tampered with by studio producers who wanted to change the tone. Some of the 80's grindhouse flicks, were, production stable. Cabin Fever 2 is an accidental throwback homage in the sense that the studio wanted the project to be nuts and bolts teenagers get killed by deadly pathogens rather than a director's concept. It never thinks outside the box, it is ruthless and lacks atmosphere, it has spots of really bad acting. But it will satisfy the target audience it's going for. It's not a film you would recommend in the same way you would Cabin Fever, but it does what it says on the tin, has an ambitious sense in direction and is inventive with it's gore. The script is awful, the acting is bad, the plot is non-existent, the director hates it, but gorehounds will love it, and overall, it is massively under rated. Essentially a throwback movie of sleaze and nastiness that only grindhouse fans with the utimate bloodlust would and could enjoy watching. I've seen worse straight to DVD horror movies in my time that are much more lazy and a lot less satisfying than Cabin Fever 2.
Directors Cat
Super Reviewer
Cabin Fever 2: Spring Fever Quotes
There are no approved quotes yet for this movie.