Caché
(2005)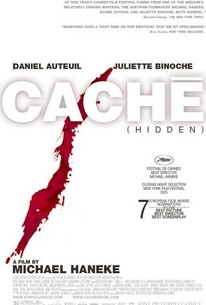 Movie Info
Paranoia grips a bourgeois European family when a series of menacing videotapes begin turning up on their doorstep in Piano Teacher director Michael Haneke's dark drama. From the outside, Georges (Daniel Auteuil), Anne (Juliette Binoche), and son Pierrot (Lester Makedonsky) are the typical middle-class European family, but when a series of mysterious videotapes accompanied by morbid drawings reveal that someone has been monitoring their house, Georges begins to suspect that his past has come back to haunt him. It was during France's occupation of Algeria that Georges wronged a young Algerian boy named Majid (Maurice Bénichou), and as the enraged father and husband begins tracking down his former friend, the line between victim and predator becomes increasingly blurred.
News & Interviews for Caché
Audience Reviews for Caché
½
Unresolved narratives are deal-breakers for many film viewers, and if you are one of them, this film will likely anger you greatly. For those willing to take on some heavy ambiguity, Haneke crafts a self-reflexive story about the relationship between film and memory, both good and bad.
Sam Barnett
Super Reviewer
½
A very well-acted, mysterious psychological thriller in which a family is terrorized by an anonymous stalker, who leaves violent drawings and video tapes consisting of following his victims around, at their doorstep. Director Michael Haneke inserts many of his calling cards here, such as prolonged scenes, a tense atmosphere, sudden acts of violence, and ultimately, an anti-ending. This formula works wonders yet again, as the viewer is never completely sure who to believe, as Haneke begins to slowly flip the script on his lead character (Daniel Auteuil) from likable to a figure who might indeed be hiding his guilt under his pride. The slow burn exercise he puts his viewers through ends on a cliffhanger, but one that is meant to encourage discussion instead of answer questions. Some will view it as boring and unrewarding, while, in my case, viewing this a second time, I was left in awe of how many questions Haneke was able to raise as a result. As far as performances go, Auteuil and Juliette Binoche are pitch-perfect, and they do a good job showing different sides to their characters. Ultimately, this is a film about an audience and how we view characters in films, and if this should be viewed as an "intrusion" or not.
Dan Schultz
Super Reviewer
The feeling of emptiness your heart receives in the end is close to unbearable.
Caché Quotes
There are no approved quotes yet for this movie.