Cadillac Records
(2008)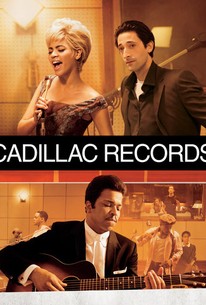 TOMATOMETER
AUDIENCE SCORE
Critic Consensus: What Cadillac Records may lack in originality, it more than makes up for in strong performances and soul-stirring music.
Movie Info
"Cadillac Records" is about the rise and fall of Chess Records, which launched the careers of Muddy Waters, Etta James and Chuck Berry. Leonard Chess scoured the South, checking out the various blues scenes and selling records from the back of his Cadillac.
News & Interviews for Cadillac Records
Critic Reviews for Cadillac Records
Audience Reviews for Cadillac Records
A white record producer signs African-American musicians, and together the foundations of rock n roll are formed. I suppose the lesson of this biopic is that when one isn't racist in a racist world, one stands to benefit. That is the only discernible advantage that Leonard Chess (Adrien Brody) has over others, yet we don't know enough about Chess or why he is as he is. A commonality among these characters is their penchant for extramarital sex, but Chuck Berry's prison sentence notwithstanding, this behavior doesn't make a plot-driving point or a matter of serious conflict. In the end, Cadillac Records is a music film, with the race relations subplot only tangential, so whether or not you like this film with depend upon whether you like the musical performances by Jeffrey Wright as Muddy Waters, Mos Def as Chuck Berry, and Beyonce Knowles as Etta James. I thought they were good, but I'm not a great judge. Overall, the plot of this film doesn't do a lot - an odd combination of social commentary about 50s race relations and interpersonal affairs - but those of you who like the origins of rock n roll might find the performances, if not the story, compelling.
Jim Hunter
Super Reviewer
If you take the ride, you must pay the price. Good but not so great. Cadillac Records is narrated by songwriter Willie Dixon played by Cedric the Entertainer. The film needs a narrator to compensate for the lack of a strong story arc. Nonetheless, Cadillac Records is worth seeing for the music and the recreation of a bygone era. Just don't expect any drama that will knock your socks off! In this tale of sex, violence, race, and rock and roll in 1950s Chicago, "Cadillac Records" follows the exciting but turbulent lives of some of America's musical legends, including Muddy Waters, Leonard Chess, Little Walter, Howlin' Wolf, Etta James and Chuck Berry.
½
This is a thoroughly enjoyable, though heavy fictionalized film about the story of Leonard Chess and Chess Records- the legendary and influential man and label responsible for creating the "electric" blues scene in Chicago from the early 1940s-late 1960s. It's a story that definitely is worthy of being told cinematically. As it turns out, this film isn't the only one to tackle this subject, though I am unfamiliar with the other versions. All in all, this is a pretty decent film, and, as I opened this review with, it is quite entertaining. It's not a musicla per se, but musical performances do make up a good chunk of the running time. Besides providing the story for Leonard, his label, and some of the people who recorded for him (and what a lineup it was!), the film does also give insight into the racial tensions of the era and the legacy of the blues, R&B, and soul. Even though it addresses these things, I could have used a stronger analysis and more depth here, as well as a more accurate portrayal of the characters and the history, but that's just the nitpicking historian in me. There is a fair issues for me with this film, and that is, even though the film has a good story, the script isn't really all that original or great, and the direction, though okay, isn't really all that distinct or remarkable. Thankfully though, things are saved (and pretty much carried) by the great casting and the wonderful performances by said cast, and the excellent music and musical performances. Here's the lineup to prove my point: Adrien Brody as Leonard Chess, Jeffrey Wright as Muddy Waters, Beyonce Knowles as Etta James, Columbus Short as Little Walter, Mos Def as Chuck Berry, Cedric the Entertainer as Willie Dixon, and Eamonn Walker as Howlin' Wolf, and that's just for starters. As great as these people are, and as much as I loved their work (especially Brody, Wright, Knowles, and Def) I also really loved Norman Reedus in a supporting role as the engineer at the studio. It's not a big or really significant role, but he does a good job, and I think he's just in general a solid actor who deserves more work. All in all, this could have been a better work, but it's a decent enough overview and introduction to a great moment in music history, despite the flaws. If you happen to like anyone in the cast, dig the blues, or want to know more about any of this stuff, then give this one a watch.
Chris Weber
Super Reviewer
Cadillac Records Quotes
There are no approved quotes yet for this movie.