Café de Flore
(2012)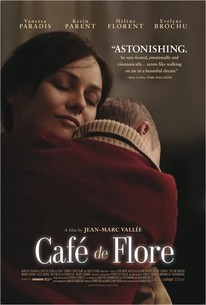 Movie Info
Cafe de Flore is a love story about people separated by time and place but connected in profound and mysterious ways. Atmospheric, fantastical, tragic and hopeful, the film chronicles the parallel fates of Jacqueline, a young mother with a disabled son in 1960s Paris, and Antoine, a recently divorced, successful DJ in present day Montreal. What binds the two stories together is love - euphoric, obsessive, tragic, youthful, timeless love. -- (C) Official Site
News & Interviews for Café de Flore
Critic Reviews for Café de Flore
Audience Reviews for Café de Flore
½
The two types of love that it presents are not comparable and the consequences of Jacqueline's obsession are just ludicrous, but this is a mysteriously charming film about how things change in our lives - and that wonderful song Café de Flore will probably stick in your head.
Carlos Magalhães
Super Reviewer
½
"Cafe de Flore" is an endearing and thought provoking movie that wonders if some things are always meant to be. Jumping back and forth skillfully between two different storylines, including one that is unstuck in time, the movie does a good job of connecting the dots in a figurative sense. But when it comes to literally doing so, it could be said to resolve events too neatly for such complicated emotions. In a straightforward narrative set in 1960's Paris, Jacqueline(Vanessa Paradis) is left to being a single mother after she refuses to give up her newborn son Laurent(Marin Gerrier) with Down Syndrome and her husband lacks the balls to stand by her. So, she becomes his advocate and knight in shining armor, doing research on not only extending his life, but also giving him a better quality of life by mainstreaming him at school. At first, Antoine(Kevin Parent), a popular club DJ, and Rose(Evelyne Brochu) seem to be living the perfect life with their daughters in present day Montreal. As one could tell by their still rambunctious sex life and confirmed later, Rose and Antoine have not been together for long. In high school, Antoine met Carole(Helene Florent), sharing a mutual love for music and falling deeply in love with each other. So, it should not come as a surprise that Carole is bitter over the breakup, even as she shares custody of the girls, and suffers from sleepwalking and a questionable taste in books. At the same time, Antoine is a recovering addict, not only having to deal with his own demons, but those he inherited from his father(Michel Dumont), himself an alcoholic.
'Cafe de Flore'. Love, its dizzying highs and lows, and everything else in between, in this brave, stunning, deeply affecting film. I am still reeling from this thing, three hours later. What starts as two seemingly separate, simple stories about love, takes a very dark, spiritual turn, and in the process, explores "love" in its many forms. I say two simple stories in relation to where the story goes, but they aren't simple by any means. It almost feels wrong to call the raw, incredible compassion shown by Jacqueline to her Down Syndrome son, Laurent "acting". Vanessa Paradis is outstanding as a mother who has given all her love and devoted her life to her son, expecting nothing less than the same in return. The introduction of Vero, and Laurent's "I love her like I love you" sets things unravelling. The present day story is equally compelling, and thematically parallel in its telling of Carole, a woman like Jacqueline, who has only ever loved one person, but loses him to another, and cannot move on. They both still reminisce, and the way this whole film is edited, switching effortlessly between tones, stories and timeframes, is rather brilliant! Joyful, motherly love to a lost teen romance to the increasingly dark visions of Carole, that consistently unsettled me. In the short time I've had to process this, I've thought about the ending in a couple of different ways. I didn't know what to make of it at first, then felt the film would have worked just fine without connecting of the two storylines from a narrative perspective, bar Carole's visions. Then I thought about it again, and what Carole's "sorry" to Antoine meant. This is a Carole that has come to terms with the connection, and what she did as Jacqueline to Laurent and Vero. This Carole has finally let go, understanding that love is sadly not 1:1. I'd be amiss not to mention the soundtrack. It's probably my favourite of the year to date. The characters, especially Laurent, and his reincarnate, Antoine, are linked via the track 'Cafe de Flore'. Music means a lot to these two, translating naturally to the importance the soundtrack has to the audience. The experience of being challenged by cinema is one I thoroughly enjoy. This is not easy going, but it's damn rewarding.
Café de Flore Quotes
There are no approved quotes yet for this movie.