Café Society
(2016)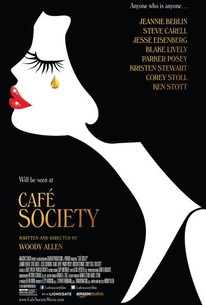 TOMATOMETER
AUDIENCE SCORE
Critic Consensus: Café Society's lovely visuals and charming performances round out a lightweight late-period Allen comedy whose genuine pleasures offset its amiable predictability.
Movie Info
Set in the 1930s, Woody Allen's bittersweet romance CAFÉ SOCIETY follows Bronx-born Bobby Dorfman (Jesse Eisenberg) to Hollywood, where he falls in love, and back to New York, where he is swept up in the vibrant world of high society nightclub life. Centering on events in the lives of Bobby's colorful Bronx family, the film is a glittering valentine to the movie stars, socialites, playboys, debutantes, politicians, and gangsters who epitomized the excitement and glamour of the age.
Critic Reviews for Café Society
Audience Reviews for Café Society
It has its moments, but just not enough of them to make it more than a just okay movie. Though there are a few stories and characters running through this, I think at heart it is a love story about Bobby and Vonnie. Both of whom end up with different and perfectly okay partners. I honestly couldn't tell what the point this movie is trying to make is. Is it the decency of being faithful to your partner or the sadness of longing for someone else? Maybe it's up to the viewer to decide. I thought personally that Veronica was the better choice, so the former for me.
Nicki Marie
Super Reviewer
A weak and self-indulgent Woody Allen movie that lacks in focus, structure and wit, as it seems more concerned about referencing dozens of Golden Age Hollywood stars than having a purpose and looks a lot more cliched than charming, with a cheesy art direction and cinematography.
Carlos Magalhães
Super Reviewer
½
Woody Allen films are usually made for a very specific demographic. If you are not over the age of 21, his films will most likely be more of a bore than a piece of entertainment. While I can't say that he has gone back and forth for me over the years, I can say that his most recent endeavour in Cafe Society is definitely a step in the right direction for him. While having Jesse Eisenberg and Steve Carell be family members who are in love with the same women felt like an enormous stretch, the casting of this film was always in the back of my mind while watching this film. This is a very imperfect film that tries very, very hard to be classy. Here is why I believe this particular Woody Allen outing is impressive, but has a lot of room for improvement. Although there is much to love about this film, being a huge fan of the media of film in general, it seems as though Woody Allen wrote this screenplay based on his experience in the industry over the years, making the film feel more like just another one of his projects, rather than being something special. Following a young man (Eisenberg) as he is recruited by his uncle (Carell) to be his assistant at a production company in Hollywood, he quickly learns the ins and outs of the industry, all while falling in love with his bosses secretary, who has also been seeing the same girl. This film very rapidly transitions into a love triangle-esque picture and that is where I believe it lost a little bit of steam. For every classic that Allen has directed, there has always been a self-indulgent one to follow. Whether it is a classic like Annie Hall or a misstep like Magic in the Moonlight, his style only seems to work for viewers about half of the time. His comfort zone has always been in romance, in that almost every single one of his films has a central love story surrounding it. You either buy into that particular love story or you don't. That is the most frustrating aspect about his films. It seems as though his great ones come when the dialogue matches his characters the most. That being said, Cafe Society definitely falls in the right area this time. While Allen does use many film terms to make the film seem much smarter than it actually is, that does benefit the film in the long run, for viewers that are not as familiar with the Hollywood lifestyle. Granted, it did not bother me too much, but it did admittedly take me out of a few scenes. Carrell, Stewart, and Eisenberg all play off each other in a very believable manor. Having said that, I did not buy into the chemistry between Jesse Eisenberg and Blake Lively that comes a little later into the film, but thankfully they are not on screen much together. The use of Hollywood film terms to make the film feel smarter ended up increasing my enjoyment. On the other hand, I can see why many people would dislike this aspect. Cafe Society will definitely not be remembered as one of Woody Allen's best, but he has surely been accused of making pretentious films over the past decade. Happily, this is not one of those in my opinion. If you are a fan of his style, I highly recommend viewing this film. At just over 90 minutes, it is a very easy film to take in. It is a very simple story of trying to make a name for yourself while falling in love at the same time. In the end, this is a well-written screenplay (albeit on-the-nose for cinema fans), with some great chemistry between the lead actors/actresses, and earns a nice spot on Allen's filmography. It may not be for you if you already haven't enjoyed some of his work in the past, but it is a nice little film to watch on a rainy day.
Café Society Quotes
There are no approved quotes yet for this movie.