Caged Heat (Caged Females) (Renegade Girls)
(1974)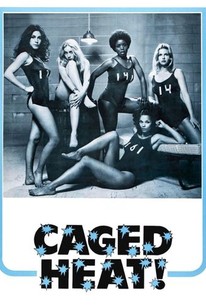 Caged Heat (Caged Females) (Renegade Girls) Photos
Movie Info
Considered the quintessential "girls in prison" flick of the 1970s, novice director Jonathan Demme's Caged Heat is set in a hellish American woman's penitentiary run by vicious, wheelchair-bound Barbara Steele. Statuesque convict Erica Gavin is forced to undergo horrible (but legal) tortures when she is falsely accused of trying to escape. Gavin and fellow con Juanita Brown decide to make a real break, but return to prison to rescue a friend who is about to be lobotomized by the sadistic prison doctor. Then they stage a robbery, only to find a group of male robbers at the bank ahead of them. A final shootout in the prison yards brings the film to a bloody climax. Caged Heat was also released under the title Renegade Girls.
News & Interviews for Caged Heat (Caged Females) (Renegade Girls)
Critic Reviews for Caged Heat (Caged Females) (Renegade Girls)
Audience Reviews for Caged Heat (Caged Females) (Renegade Girls)
Your eyes do not deceive you - that is THE Jonathan Demme with the director's credit for this Roger Corman exploitation and one of the most influential of the WIP (women in prison) subgenre. And you know what, it ain't half bad! Don't get me wrong, nobody would mistake this for high quality cinema, but what it does it does well. Lead actress Erica Gavin as the new jailbait is plain and frankly rather boring, but thankfully the supporting characters have a lot of life like cutie Roberta Collins who steals food out of the employee break room to feed those in solitary and Juanita Brown as the fiery & foul-mouthed ruler of the cell block. Barbara Steele is really great as the wheelchair-bound superintendent McQueen who lives a repressed lifestyle and feels torn between her genuine desire to rehabilitate her charges and punish them for insubordination which she takes as a personal affront. There are four, count 'em, FOUR shower scenes mixed in among the catfights, corrective discipline, and rebellions leading up to the big showdown. Dust off your 8-track and pull out your polyester and bell-bottoms!
Doctor Strangeblog
Super Reviewer
Caged Heat (Caged Females) (Renegade Girls) Quotes
There are no approved quotes yet for this movie.