California Dreamin' (Nesfarsit) (Endless)
(2007)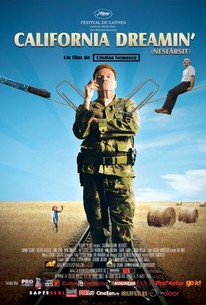 California Dreamin' (Nesfarsit) (Endless) Photos
Movie Info
Romanian director Cristian Nemescu's comedy California Dreamin' (aka Nesfarsit, 2007) unfolds against the backdrop of the Kosovo War, circa 1999. A NATO train rolls through a Romanian hamlet, transporting a plethora of weapons across the country -- without official documents, and equipped only with the verbal consent of the Romanian authorities. The transport thus grows intensely vulnerable to the locals -- particularly the corrupt head of the railway station, who moonlights as a mobster and promptly decides to interfere with the shipment.
Critic Reviews for California Dreamin' (Nesfarsit) (Endless)
Audience Reviews for California Dreamin' (Nesfarsit) (Endless)
It is 1999, and Captain Doug Jones(Armand Assante) is leading a joint NATO taskforce through Romania to bring telecommunications equipment to aid in the bombing in Kosovo. As luck would have it, they only make it as far as a small village where they are held up by Doiaru(Razvan Vasilescu), the station master, for lack of customs papers. The mayor(Ion Sapdaru) can do nothing to aid their progress. It's a shame because Doiaru's teenaged daughter Monica(Maria Dinulescu) was hoping to ride the train to escape to Bucharest but is brought back by her father's men, with a platoon of marines looking on helplessly. She's not the only person in town who hates her father as Nae(Gabriel Spahiu) has to take a number with his work stoppage. "California Dreamin'" is a decent enough tragicomedy and satirical allegory of both Romania's relationship to the world and America's effects on everybody else. It might seem a little odd that very few people in the village can speak English(yet, they can find an Elvis impersonator) in a post-Communist world but not so much that the Americans can only speak English.(Although, Romanian might make for a obscure choice in any case.) At the same time, despite their military might, a single stationmaster can bring everything to a halt. That's okay. Sometimes, a day off can do the world of good.(I really do sympathize with being stuck on a stopped train for a prolonged amount of time.) However, a lot of this feels forced with a slight "Romeo and Juliet" story line thrown in for good measure. For the record, absurd situations in Eastern Europe have been the stuff of fiction for a long time, but usually with no explanations given which is kind of the point.
Reviews make this movie sound like a Romanian Kusturica movie, but the truth is that this story about bureaucracy is every bit as dull as its subject: "An astonishing debut feature, Nemescu's bold and brilliant satire has modern-day Romania and US foreign policy firmly in its sights. In 1999, a secret NATO train filled with US Marines is halted by a bolshy local station master-cum-black marketeer. What follows is a rambunctious Balkan farce that shades inexorably into tragedy as the soldiers and the townspeople try to fraternise. A happy outcome was never possible and, as the town implodes, the Americans move blithely on to Kosovo, unaware of the violence they have unleashed. Sadly, this will be Nemescu's only feature, as both he and his sound editor were killed in a car crash while still working on the film." That last sentence may well explain the lack of editing, and sound for that matter...
Ross Collins
Super Reviewer
½
Interesting tale of culture clash at a Romanian train station linked to historical events. Similar themes to the WWII 'Americans oversexed and overhere' films of the 80's.
Gordon Anderson
Super Reviewer
California Dreamin' (Nesfarsit) (Endless) Quotes
There are no approved quotes yet for this movie.