California Solo
(2012)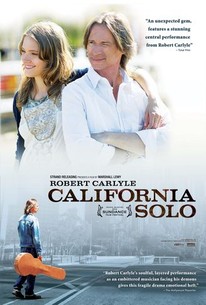 Movie Info
Robert Carlyle (The Full Monty, Trainspotting) stars in this touching, human story about post-fame life and personal redemption. Former Britpop rocker Lachlan MacAldonich (Carlyle) has settled into a comfortably numb existence just outside Los Angeles. By day, he works on an organic farm and travels regularly to the city's farmers' markets to sell produce. By night, he retreats to his crummy apartment to record "Flame-Outs," his podcast that recounts the tragic deaths of great musicians. The only spark in his humdrum existence is Beau (Alexia Rasmussen), a lovely struggling actress and amateur chef. One night, Lachlan gets pulled over for a DUI, a charge that dredges up his past drug offense and threatens him with deportation. Lachlan's only hope of staying in the U.S. is proving that his removal would cause "extreme hardship" to a U.S. citizen spouse or relative, so he contacts his estranged ex-wife and daughter, raising past demons that he must finally confront. Danny Masterson co-stars. Written and directed by Marshall Lewy.
Critic Reviews for California Solo
Audience Reviews for California Solo
Question: Have you ignored the consequences of your actions, especially when the initial result was so horrendous that you opted out and thought it was best to forget than face it? Burying the pain any way you can, you live a dark, disconnected existence that keeps you oblivious. Exile. However, if you believe in karma, your actions will be rebuked someday, when you probably least expect it, and you will finally be forced to lift the veil. The sight isn't pretty but once concessions are made the sun might shine again. California Solo quietly tells the tale of a former Britpop band member, played by Robert Carlyle, whose unspeakable actions over a decade ago brought his life to a screeching halt. Most should recognize the Scottish actor from his roles in Trainspotting, 28 Weeks Later or The Full Monty, but Carlyle portrays a man far different from those famous characters. Lachlan MacAldonich (Carlyle) is a deep character. His performance was touching, enigmatic and heartfelt. He's full of pain, regret and he can't seem give up the booze to look clearly at himself. The layers of this man were slowly exposed and left me with a quandary. In the beginning, he's just a farmer in southern California living a quiet life. Then he makes a stupid mistake and gets caught. Due to his current situation and past indiscretions, Lachlan is threatened with deportation back to Scotland. For the rest of the film his realities are revealed, smacked in his face actually, but he fights to continue his self-imposed exile. The level of empathy for the middle-aged man started off strong because he seemed like loner happy just being quiet and left alone. Yet, as you discover more about him and his past you become unsure how to feel. In fact, I went back and forth on whether I felt sorry for him. Marshall Lewy, the writer/director, had me trying to figure this character out, why his demons were so buried, and wondering about his desperation to not go back to the UK. The story is compelling, to say the least. I was almost hypnotized by Carlyle's character and his deep need to push back the demons that were obviously rising up. Lachlan didn't appear to have much to live for but get up, go to work, frequent the local bar and produce a podcast about dead rockers. Was that a good existence? For him it was, but it couldn't last forever as he soon found out. There are a few other characters in California Solo played by A Martinez, Kathleen Wilhoite, Alexia Rasmussen, and Danny Masterson. These are the few people in Lachlan's life but kept at arm's length - some further than others. All did a fine job in this indie film but Carlyle is the one to watch. California Solo is a film worth viewing. It is a haunting story that is a cautionary tale about accepting responsibilities for behaviors of the past. Hiding, sulking and ignorance will not heal the pain no matter how many years have come and gone. Review: 8 out of 10
Tired of Previews
Super Reviewer
California Solo Quotes
There are no approved quotes yet for this movie.