Caligula
(1979)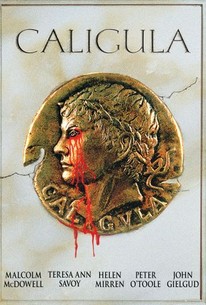 Movie Info
This lavish big-budget epic was the pinnacle of a uniquely Italian subgenre, the historical hardcore gore/porn extravaganza. The star-studded cast, perhaps lured by the high-profile involvement of producer Bob Guccione and screenwriter Gore Vidal, includes such luminaries as John Gielgud, Peter O'Toole, and Helen Mirren. Director Tinto Brass, whose similar treatment of Nazi Germany in Salon Kitty won him the job, did his best with the mammoth enterprise, but numerous production problems and re-edits took their toll on the finished product. When Caligula works best, it works because of Malcolm McDowell, whose crazed portrayal of the title Emperor is the embodiment of villainous corruption. McDowell raises his performance level to match the gaudy spectacle around him, which led to charges of overacting, but there are moments when he is absolutely riveting. Some of the cast doesn't fare as well, as O'Toole makes a particularly unsubtle Tiberius. The sex is graphic and steamy, particularly a feverish lesbian interlude between Penthouse Pets Lori Wagner and Marjorie Thorsen (using the pseudonym "Anneka di Lorenzo"), and the various carnival freaks used as atmosphere imbue the film with a grotesque, Fellini-like opulence. There are many memorable scenes and a magnificent score by Paul Clemente, but the heady brew of historical epic, hardcore sex, and gory violence proved overwhelming to many viewers. Still, Gore Vidal's script is surprisingly accurate, and manages to be entertainingly vulgar while bringing a rather loathsome slice of human history to vivid life, warts and all. The more explicit scenes were directed by Bob Guccione and Giancarlo Lui, causing both Vidal and Brass to remove their names from the credits. ~ Robert Firsching, Rovi
Critic Reviews for Caligula
Audience Reviews for Caligula
An experiment in over excess and pushing boundaries of good taste, Caligula is one of the worst films to ever be made. The problem with the film is that it has hardcore sex acts that are shown in the film, and it has nothing to do with the plot. They intercourse throughout the film, and it's graphic, and while you're watching this, you're wondering if you're watching a porn film, and in my personal opinion, this is a porno. The filmmakers use hardcore sex and graphic violence in a mainstream film and try to make an entertaining film. Well, this is far from entertainment. Caligula is a curiosity at best in the sense that the film is a train wreck, and you can't look away. The film has nothing going for it, and it's a porn film with a poorly thought out plot. If the explicit sex scenes would have been cut out, and the script would have been rewritten in order to have a well crafted story, then maybe this film would have succeeded in being a truly compelling drama, and frankly it's a shame that the filmmakers opted in making a piece of cinematic trash by including extreme violence and sex acts throughout. Another aspect of the film that really stuns me is the fact that so many talented actors have starred in this awful film. I would say that Caligula is a mainstream porn film due to its content, and it's a film that should never have been made. Caligula is one of the worst films that I have had the misfortune to see. There is nothing good here, no shroud of story, good acting and good direction. Caligula in the end is a film that fails in terms of filmmaking, and it tries to pass off trashy, taboo subject matter as entertainment, which overall makes this a film that should be avoided, and one that lacks any artistic merit. Caligula might have been a good movie if they would drop the whole erotic/pornographic aspect of the film as well as the extreme violence, and focused on telling a good story. It's a great shame because films based in ancient Rome are usually quite entertaining, however Caligula is not one of them, and it's an excruciating film to sit through.
Props for making a film like this in 1979...but...what....?!
Christian C
Super Reviewer
Okay, this was a hard one for me to review, but actually, shockingly so, not that hard to watch considering the filth that is the film's contents. All right, the cinematography is a weird mixture of cheap and well-executed shots. And knowing the turbulent history surrounding the production of the film, I was able to bypass it for the most part. The editing was shoddy and too fragmented, mostly filling scenes that probably would have been better if kept short, with random jump cuts to penis and vagina taking up most of the frame. The pornographic footage was completely unnecessary and actually, much of it was insanely cruel for really no reason at all (i.e. Caligula's hallucinations, the notorious fisting scene). The direction was beyond messed up. The reason being that the project's original director Tinto Brass was booted off the project and the film's producer, Penthouse founder Bob Guccione, took over filming extra scenes and shots of hardcore porn and tearing the original work print to pieces, actually cutting out over an hour of footage originally in the film. This is on top of his major insistence for tumultuous amounts of sex and nudity in the film at the get-go. The acting, considering the bizarre and fragmented script, was actually really good for the most part in my opinion. With Grade-A actors like Malcolm McDowell, Helen Mirren, Paolo Bonacelli, John Gielgud and above all, Peter O'Toole. I do believe if this project had kept the original screenplay by writing legend Gore Vidal, and Tinto Brass was not forced to accommodate Guccione's requests, I have a feeling this could have turned out to be a good movie, but sadly, this is a high-priced skin flick with some good elements and some disgusting sadomasochistic violence.
Matthew Roe
Super Reviewer
Caligula Quotes
| | |
| --- | --- |
| Caligula: | If only all Rome had just one neck. |
| | |
| --- | --- |
| Caligula: | If only all Rome had just one neck. |
| | |
| --- | --- |
| Drusilla: | I thought you didn't like virgins |
| Drusilla: | I thought you didn't like virgins. |
| Caligula: | I've never known any |
| Caligula: | I've never known any. |
| | |
| --- | --- |
| Caligula: | Caesar cannot be a fool! |