Call Me by Your Name
(2018)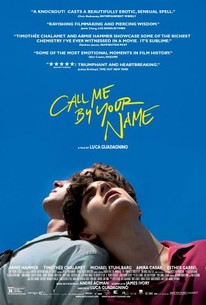 TOMATOMETER
AUDIENCE SCORE
Critic Consensus: Call Me by Your Name offers a melancholy, powerfully affecting portrait of first love, empathetically acted by Timothée Chalamet and Armie Hammer.
Call Me by Your Name Photos
Movie Info
CALL ME BY YOUR NAME, the new film by Luca Guadagnino, is a sensual and transcendent tale of first love, based on the acclaimed novel by André Aciman. It's the summer of 1983 in the north of Italy, and Elio Perlman (Timothée Chalamet), a precocious 17- year-old American-Italian, spends his days in his family's 17th century villa transcribing and playing classical music, reading, and flirting with his friend Marzia (Esther Garrel). Elio enjoys a close relationship with his father (Michael Stuhlbarg), an eminent professor specializing in Greco-Roman culture, and his mother Annella (Amira Casar), a translator, who favor him with the fruits of high culture in a setting that overflows with natural delights. While Elio's sophistication and intellectual gifts suggest he is already a fully-fledged adult, there is much that yet remains innocent and unformed about him, particularly about matters of the heart. One day, Oliver (Armie Hammer), a charming American scholar working on his doctorate, arrives as the annual summer intern tasked with helping Elio's father. Amid the sun-drenched splendor of the setting, Elio and Oliver discover the heady beauty of awakening desire over the course of a summer that will alter their lives forever.
Critic Reviews for Call Me by Your Name
Audience Reviews for Call Me by Your Name
½
I am not sure why I enjoyed this film as much as I did. It doesn't communicate primarily through dialogue, the story is choppy, its heavy with the metaphors, and there are many scenes that seem to serve little to no purpose. However, the way the characters convey emotions and communicate without saying a word is amazing, the aura of escapism is wonderfully portrayed by using beautiful shots and the soothing sounds of Sufjan Stevens, yet not overdone like some fairytale. If this story were put in a vacuum it wouldn't interest me, but it makes you feel a certain way and takes you to a place that is pretty enjoyable.
Sanjay Rema
Super Reviewer
"Call Me By Your Name" is extraordinarily beautiful cinematically, technically and artistically. All performances are exceptional. With a poignant story of the disappointment and exhilaration springing from the uncertainty of any young love, the story and characters never debase their validity with invocations of fear (or worse, shame!) as is almost universally portrayed in films based upon same-sex relationships in the 1980s. "Call Me By Your Name" is elevated above the typical coming-of-age romance story because it transcends the tropes with grace and dignity without short-changing the emotional roller-coaster of first-discovered passion. I strongly recommend this film to anyone who has been traveled down Love's pot-holed and crooked path yet has emerged a mile down the road the better for it, despite the tolls levied.
Christian C
Super Reviewer
½
Call Me By Your Name is a slower peak into the discovery of romantic feelings between 17-year-old Elio (Timothee Chalamet) and grad student Oliver (Armie Hammer). Set amid the sunny countryside of northern Italy, the film takes it sweet time establishing the lazy world of its characters and their closely intersecting orbits. I became anxious because the characters kept me at arm's length, leaving their burgeoning romance to feel distant and tame. I understand the hesitation of both parties and the age difference complicating matters. I understand caution. But it feels like the film is cautious to a fault, to the point that one of them laments later why they wasted so much time. The acting is pleasant if undistinguished. The best scene is a terrific monologue by Michael Stuhlbarg as the world's most lovably accepting father. For an earth-shattering romance, I too often felt unmoved and restless. If we're going to spend this much time hanging out with these people we should get to know them more intimately, and not just in the physical sense. I missed the compelling artistic charge of something like a Moonlight. I'm a bit stupefied at all the praise heaped upon Call Me By Your Name, a fine indie drama that, for me, too infrequently delves below its pretty surface into something more substantial. Nate's Grade: B-
Nate Zoebl
Super Reviewer
Call Me by Your Name Quotes
There are no approved quotes yet for this movie.