Calvin Marshall
(2010)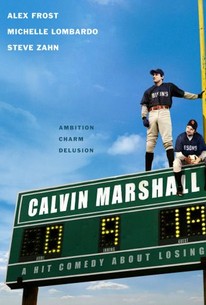 Movie Info
An unathletic junior college student works to realize his dream of playing for the MLB while courting a pretty volleyball player who displays the athletic prowess that he so sorely lacks. Calvin Marshall (Alex Frost) is a good kid with big dreams. Despite knowing that the young player will never make it to the big leagues, his coach, Doug (Steve Zahn), recognizes Calvin's dedication to the game, and decides to keep him around as a morale-boosting bench warmer. Meanwhile, likeable Calvin strikes up a tentative romance with Tori (Michelle Lombardo), a statuesque volleyball star with a quick smile and a warm heart. But just as Calvin and Tori are getting to know one another, the bumbling baseball player tells an innocent lie that threatens to destroy any chance for a meaningful relationship. Despite the many setbacks Calvin faces both romantically and professionally, he struggles with the realization that his only hope for getting the absolute most out of life is to accept the little disappointments along the way, and turn his failures into learning opportunities.
News & Interviews for Calvin Marshall
Critic Reviews for Calvin Marshall
Audience Reviews for Calvin Marshall
I put this movie off for a long time, because it was supposed to suck. Well, it didn't. Not at all. This was a rather enjoyable, rather well done little movie. Alex Frost (Calvin) reminded me ALOT of a young John Cusack. Nice movie...
Cynthia S.
Super Reviewer
"Ambition Charm Delusion" Calvin Marshall is the name of the movie and of the lead character. Calvin has high hopes of being a baseball superstar, but he can't even play for a little Junior College team. The coach let's him hang around though because he doesn't have the heart to tell Calvin that he just doesn't have any talent.  This is by no means a great movie. It's an average one at best, but it has a lot of likable qualities. First, all of the characters are likable. Calvin is a hard working and nice kid who loves baseball. The girl he likes Tori is a beautiful, charming, and nice star volleyball player, who is going through a tough time. Coach Little, played really well by Steve Zahn, is a hard ass on the field with his players and a drunk off the field. But we see what he's really like when he talks to Calvin. He may not admit it, but he likes having Calvin around. Overall I enjoyed watching Calvin Marshall. It's not a movie that you feel the need to see more than once. It doesn't have a star-studded cast. It's not a big budget comedy with tons of laughs. It's just a charming little Indie Drama/Comedy that has a heart and is easy to like. If you need to kill an hour and a half, it's not too bad. If you never see it, well, that wouldn't be to big a deal.
Melvin White
Super Reviewer
½
A hit comedy about losing Great movie, I really enjoyed it. It was a smart but funny movie with a nice message. The film Calvin Marshall transcended your typical sports film to convey the choices we all face in life when it comes to following our dreams, our talents, and what is important in our life. It's not a fairytale story, or the story of the kid from the wrong side of the tracks overcoming seemingly insurmountable odds, or the story of the washed up veteran making an improbable comeback, this is the story of everyman. Steve Zahn absolutely nailed his character and put up one of his best performances, if not the best performance, of his career. I love sport movies! Calvin Marshall's childhood dream of playing Major League Baseball is in serious jeopardy as he can't seem to make the Bayford Bisons Junior College team. A poignant comedy about Calvin's deferred dream and the people in his life who want him to succeed.
Calvin Marshall Quotes
There are no approved quotes yet for this movie.