Cameraman: The Life And Work Of Jack Cardiff
(2011)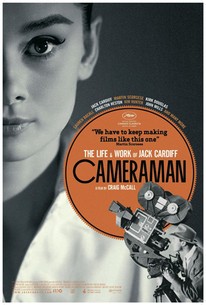 Cameraman: The Life And Work Of Jack Cardiff Photos
Movie Info
Jack Cardiff's career spanned an incredible nine of moving picture's first ten decades and his work behind the camera altered the look of films forever through his use of Technicolor photography. Craig McCall's passionate film about the legendary cinematographer reveals a unique figure in British and international cinema. -- (C) Strand
Critic Reviews for Cameraman: The Life And Work Of Jack Cardiff
Audience Reviews for Cameraman: The Life And Work Of Jack Cardiff
At first, this documentary seems most interested in pointing out that master cinematographer Jack Cardiff was still working at the age of 91 after a very long career. He started out as a child actor before becoming almost entirely self-taught, as he learned more from a pornographic novel than school. But then it gets down to the nitty gritty of his work that spans from "Black Narcissus" to "Rambo: First Blood Part II" with a special interest in his innovations in the use of color film in 1940's England, with a glancing mention of the 13 films he directed.(Note to self: get around to seeing "Sons and Lovers" one of these years.) The documentary's anecdotal structure becomes problematic in other ways, too, especially in how often the movie goes off topic, favoring star power over technical expertise, although the home movies Cardiff shot on set almost make up for some of that. And even then, the documentary can be maddeningly inaccurate. For example, it is nice to know Michael Powell was so fearless in the movies he made with Emeric Pressburger. However, "The Red Shoes" was not Powell's undoing. In reality, it turned out to be "Peeping Tom," made without Pressburger to hold him back.(Don't let that stop you from seeing it, though.) Plus, this documentary is framed by making a big deal about Cardiff's being belatedly given an honorary Oscar in 2001 but I looked it up and he won one for cinematography for "Black Narcissus" in 1947.
½
The most amazing thing about Jack Cardiff is the span of his career. This doc doesn't give us a lot of insight into his personal life, but does take us back with images of his parents as extras in early silent films. He was a child actor in silents before moving behind the camera. Then he was instrumental in developing the use of vibrant technicolor movies in the late '30s and became a major collaborator with Powell and Pressburger in the '40s. He took up directing a handful of movies for the next couple decades before returning to cinematography for good with several thrillers that might seem unexpected based on his earlier work. Many clips and behind-the-scenes shots are shared. Many actors and other filmmakers share stories about working with Cardiff. The talking heads are full of compliments, however unlively, and this doc doesn't go very deep.
Byron Brubaker
Super Reviewer
Ah, this one takes me back. I was at college in Cardiff in the late Nineties, and I remember finding out at very short notice - like, that very day! - about a special screening of A Matter of Life and Death, to be followed by a Q&A session with that film's cinematographer, Jack Cardiff. A couple of friends and myself dashed down to this little arthouse cinema tucked away in the suburbs of Cardiff, only to be told that we couldn't possibly get in because they'd already sold out! As arrogant as I was naïve at that time, it probably hadn't even occurred to me that there would be other people interested in seeing this show; surely I was the only Powell & Pressburger fanatic in the whole of the British Isles, let alone the Welsh capital. Anyway, I remember the evening wasn't a complete waste of time because we disconsolately shuffled off to watch 12 Monkeys instead, but I still feel a pang of disappointment at missing out on seeing the great man in person. Apart from the depressing fact that so many of the contributors to this documentary, seventeen years in the making, have, like Jack, now passed on, Cameraman serves as a thoroughly entertaining digest of Jack's autobiography, Magic Hour. If you like what you see here, I urge you to read his excellent book.
Cameraman: The Life And Work Of Jack Cardiff Quotes
There are no approved quotes yet for this movie.