Camilla
(1994)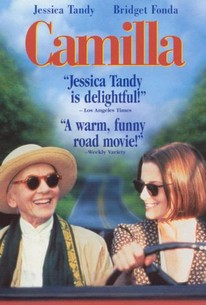 Movie Info
Jessica Tandy made one of her final screen appearances in this comic road movie. Freda (Bridget Fonda) is a would-be singer and songwriter who would like a career as a performer but lacks the courage; it doesn't help that her husband Vincent (Elias Koteas), a graphic artist, keeps insisting that her interest in music is merely a hobby. Hoping to put some spark back into their marriage, Freda and Vincent take a vacation to Georgia, where they meet Camilla (Jessica Tandy), who lives in the main house near their cottage. Freda discovers that Camilla was once a musician; she claims to have enjoyed a stellar career as a concert violinist in her native Canada, and she knew only the best people (although Freda isn't sure that she believes all Camilla's stories, especially Ghandi's fondness for enemas). While Vincent gets involved in a business deal with Camilla's son Harold (Maury Chaykin), who produces sleazy exploitation films, Camilla regales Freda with stories about her greatest triumph, performing the Brahms Violin Concerto at Toronto's Winter Garden Theater. When Camilla discovers that the Brahms concerto is to be performed soon at the Winter Garden, Camilla and Freda decide that this is something they should see, and the pair hits the road to the Great White North, meeting a remarkable variety of people along the way. Tandy's husband and frequent co-star Hume Cronyn has a supporting role as one of Camilla's former beaus; it was their last picture together.
Audience Reviews for Camilla
'What are you waiting for? A quiet sleep and a sweet dream when the long trick's over!' This is the story of two women, Jessica Tandy (in her final screen appearance as the titular character Camilla) and Bridget Fonda (as Freda, an aspiring musician) who take off to Toronto Canada to hear a Brahms violin concerto while Tandy's son and Fonda's husband are out of town on business. Meanwhile, Camilla's son (Maury Chaykin) becomes convinced his mom has been kidnapped when she orchestrates a reunion with a long-lost lover. Graham Greene makes for a charming car thief and con artist and we have Tandy's real-life husband Hume Cronyn playing an old flame (love that wonderfully tender bed room scene with the two.) A sweet and adorable movie that flows naturally from drama, to adventure, to romance sprinkled with humor and some comedy.
An underrated film - Jessica Tandy's last. And Jessica does a wonderful job. Two women from different generations, but with a love of music go on an adventurous road trip from the south States to Toronto to see a concert. The story seems a bit contrived, but it is worth a watch.
Camilla Quotes
There are no approved quotes yet for this movie.