Camille Claudel
(1988)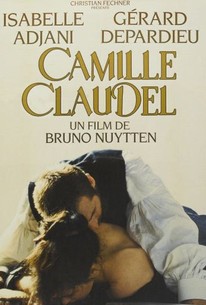 Movie Info
The story of Camille Claudel, sister of well-known French diplomat and poet Paul Claudel, is relatively unknown outside Europe. A sculptress, she was deeply involved both romantically and professionally with famous sculptor Auguste Rodin. Camille Claudel was produced at the instigation of its star, Isabelle Adjani, who plays Camille. The film explores her 15 year relationship with Auguste, a period in which she descends into madness. Ultimately, her family commits her to a mental institution for the remainder of her life. Camille is depicted as being torn between her affections for the men in her life, brother Paul and lover Rodin, and her own artistic ambitions. The film has a feminist perspective, showing how these two strong, occasionally overbearing personalities thwart Camille's drive to succeed as a sculptor. Rodin is played by Gerard Depardieu, and Laurent Crevill is Paul.
Critic Reviews for Camille Claudel
Audience Reviews for Camille Claudel
½
This movie shows us once again that anyone can have a screwed up loving relationship. And for all the single girls out there who thing the man they are having an affair with are every going to leave there wife's, let's just say your chances of winning the lottery are better. In this movie we see French sculptor Camille Claudel develops her talent and ambition. In the process she catches the attention of legendary sculptor Auguste Rodin. Who she falls madly in love with and his passion for her is undeniable. But after Rodin turns her away and favor's his wife, her passion turns into rage, and her work once at its height in France tumbles, and she is committed for years in a mental institution. More or less the life and times of Camille Claudel . Get a large bag of Pop Corn, 2 Pizza's and a quart of ice cream as this is a long one in French with English Subtitles. Did you expect different I doubt that 1 out 500 Americans even know who Camille Claudel was. 3 1/2 stars.
Bruce Bruce
Super Reviewer
Accurate portrait,honest biopic,a legend on-screen.Claudel the artist by the chameleon Adjani.
Dimitris Springer
Super Reviewer
Focused on the mistress of Rodin, I found Gerard Depardieu's depiction of the artist to be the most compelling part of the film. When he is on, he can easily do that in a picture.
John Ballantine
Super Reviewer
Camille Claudel Quotes
There are no approved quotes yet for this movie.