Camp Rock
(2008)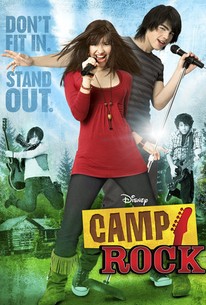 Movie Info
The Jonas Brothers star in this Disney Channel Original Movie about a working class girl determined to refine her musical talent at an acclaimed summer workshop, and the newfound sense of confidence she gains after meeting the singer of a popular musical act. Camp Rock is the place where young musicians go to grow into talented musicians. Mitchie Torres has always dreamt of spending a summer at Camp Rock, but her family can't afford the tuition costs. When Mitchie's mother announces that she got her daughter a discount on tuition by agreeing to work as the camp cook, the young musician is overjoyed at the prospect of actually attending Camp Rock. Though at first intimidated by the more privileged campers, Mitchie soon strikes up a friendship with the decidedly down-to-earth Caitlyn, who dreams of some day becoming a music producer. Later, Mitchie tries to impress popular girls Tess, Peggy, and Ella by claiming that her mother is a powerful executive at Hot Tunes TV, a tall tale that ultimately gets her invited to sing back up for the catty clique. Meanwhile, Connect 3's summer tour has been cancelled, and lead singer Shane Gray seems to have lost his passion for music. His bandmates Jason and Nate think that a stint in Camp Rock would be the perfect thing to help the singer get his ego back in check, and soon after arriving Shane is captivated by Mitchie's voice. Unlike the other campers, Mitchie seems to genuinely appreciate Shane's creativity rather than simply fawning over his stardom, and it before long the pair has become fast friends. But Tess is jealous of Mitchie and Shane's budding friendship, and upon discovering the truth about the humble singer's mother, the scheming mean girl makes it her mission to get ensure that neither Mitchie nor Caitlyn perform at the upcoming Final Jam competition. Later, as Shane, Nate, and Jason take their seats on the judge's panel for the Final Jam, Mitchie attempts to overcome her fear, step into the spotlight, and show everyone her true talent.
Critic Reviews for Camp Rock
Audience Reviews for Camp Rock
So Disney comes up with another plan to get tweens into musicals following the massive success of the "High School Musical" movies. They come up with "Camp Rock", a film about kids trying to get into the world of fame in a popular music camp. When we first heard of the film, I knew it wasn't going to be as good as HSM but I found it entertaining. Demi Lovato's performance as Mitchie Torres was good. Her character was believable due to her performance. The Jonas Brothers also prove to be good actors as well. But we really have to give props to Meaghan Martins' performance of Tess Tyler. Snotty, mean, and believable. A lot of you Rotten Tomatoes members are dissing because it is predicatable. Well it is. There are the typical tween movie cliches but you probably won't catch them. The songs are good and toe-tapping. You'll get them stuck in your head for weeks! Camp Rock is good family fun. It may have "tween" written all over it but it can be found entertaining depending on your mood. "Whatever, major loser."
Bentley Lyles
Super Reviewer
10/10/2010 (TELEVISION) I don't usually get into these but I just happen to leave it running as I was doing my homework and I will admit that I actually thought it was okay, I'm more of a "Glee" dude. It's really nothing special but the same old story the keep giving preteens. A good choice for families with preteens or children. I won't watch this again but I did like it.
EightThirty .
Super Reviewer
Camp Rock is among the most basic family channel full length features out there, however, Camp Rock delivers to the best of it's ability. Yes the Jonas Brothers are getting very old, but I seem to like Joe in this, because aside from his poor singing, he actually has a hint of acting that could go somewhere. I didn't expect to like this film as much as I did, so I applaud it's efforts, and say, way to go!
Camp Rock Quotes
There are no approved quotes yet for this movie.